Sage and Seasonal (October): ZUCCHINI
Categories: breakfast, brunch, baked
04 10 2015
Arghh zucchini (or 'courgette' to our UK friends) – how you have my heart! Yes, the humble zucchini is a definite favourite vegetable of mine, so of course there was no second guessing our choice for the October #sageandseasonal feature.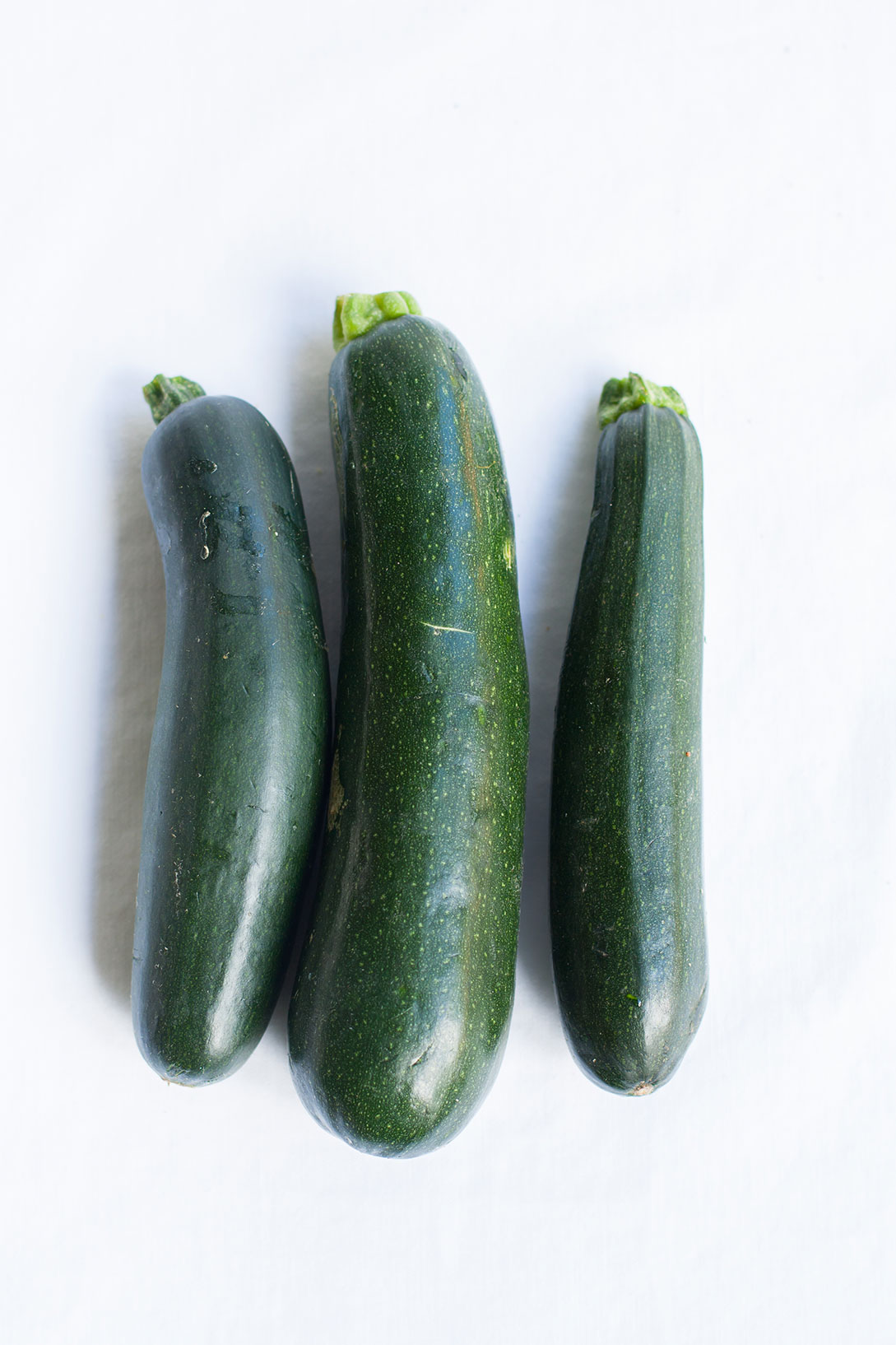 Zucchini also happens to work like magic in making baked goods (sweet or savoury) deliciously moist,  and after trying a friend's savoury loaf on a recent glamping weekend (you can read all about that one here)…I was super keen to recreate a similar loaf using our beloved zucchini. I also happen to have the recipe for a mean Zucchini and Chocolate cake, but that's a post for another day!
Slices of this chees-y, herb-y loaf make for a worthy bread replacement at breakfast, brunch, lunch or dinner… and a great accompaniment to some perfectly poached eggs or salty smoked salmon…enough to make my persistent sweet tooth quiver that's for sure!
Of course there's nothing better than having your own homegrown zucchini at your very disposal, so Natasha from The Sage Garden is back with a super quick guide to growing your own – so that this loaf is only ever a mixing bowl away! Okay, okay that was really lame. Forgive me – exam study appears to have consumed many of my use-able brain cells at the moment.
How to grow them?
Zucchinis don't need rich soil to grow well, in fact if you apply too much compost or manure you will have lots of foliage but not much fruit. I don't do much to my soil other than ensure it isn't compacted and apply lucerne mulch after planting. They like a sunny spot and need lots of room to grow, although you can train them up various structures. I like to sow my seeds in the Spring using biodegradable pots and plant them into the ground once the frosty mornings have passed. In early Summer you can plant the seeds direct. Word to the wise, if the temperature is going to drop below 8 degrees overnight, pop a little plastic container with no lid around them to keep them warm.
When the seedlings are establishing keep the area weed free, and water well. I water with a liquid fertilizer when I remember (but other people will tell you to every two/three weeks). I have also started crushing up egg shells and putting them near the base of the plant once the flowers emerge, I do this for pumpkins too, because someone on the internet said it was a good idea.
Zucchinis have their share of problems, slugs go for them when they are young but I have found the biggest problem is powdery mildew. I spray my plants well with a milk spray as a preventative measure; this means before I see the signs of the mildew which looks like someone has shaken power over your plants then they go crusty and brittle. Spray your plants every 10 days and straight after any rainfall. I use organic full cream milk, one part milk to ten parts water, into a spray bottle, give it a good shake and you're ready to go. This is a great one to get the babes to do. Remember to spray both sides of the leaves.
If you want to create a gang, Zucchinis like to be plated with lettuce, capsicum, corn, silver beet, spinach, tomatoes and parsley. I personally like to plant them amongst corn and tomatoes because I think it's a good use of space.
There you have it. Now let's eat.
Words by Natasha Grogan of The Sage Garden

How to cook them?
This Zucchini and Feta Savoury loaf is the antidote to my long-held love of sweet loaves (banana bread addict over here!), and holds up on it's own, sliced warm and slathered with good quality butter, or as a great replacement to your usual sourdough bread with your eggs at brunch.
The recipe is adapted from and inspired by a delicious loaf created by a new foodie friend Ashlyn Lincoln who treated us to her supremely more-ish and delicious loaf (read: we scoffed it down!) at a recent 'glamping' picnic.
The zucchini in this version gives the loaf lovely texture and allows the nutritionist in me to shove as much extra veg in as I can. Ha!
Zucchini and Feta Savoury Loaf

Makes one loaf

1/2 cup mashed pumpkin (approx. 200 g raw, peeled – I used jap pumpkin)
1.5 cups grated zucchini
1.5 cups spelt flour (I used a mixture of white and wholegrain)
1/2 cup almond meal
1/4 flaxseed meal
1-2 tbs psyllium husk (optional)
2 tsp baking powder
4 eggs, lightly beaten
1/4 cup olive oil
150 g of feta (I used danish style feta)
1/4 tsp salt
1/3 cup chopped chives (and/or dill if in season)
Butter (for greasing)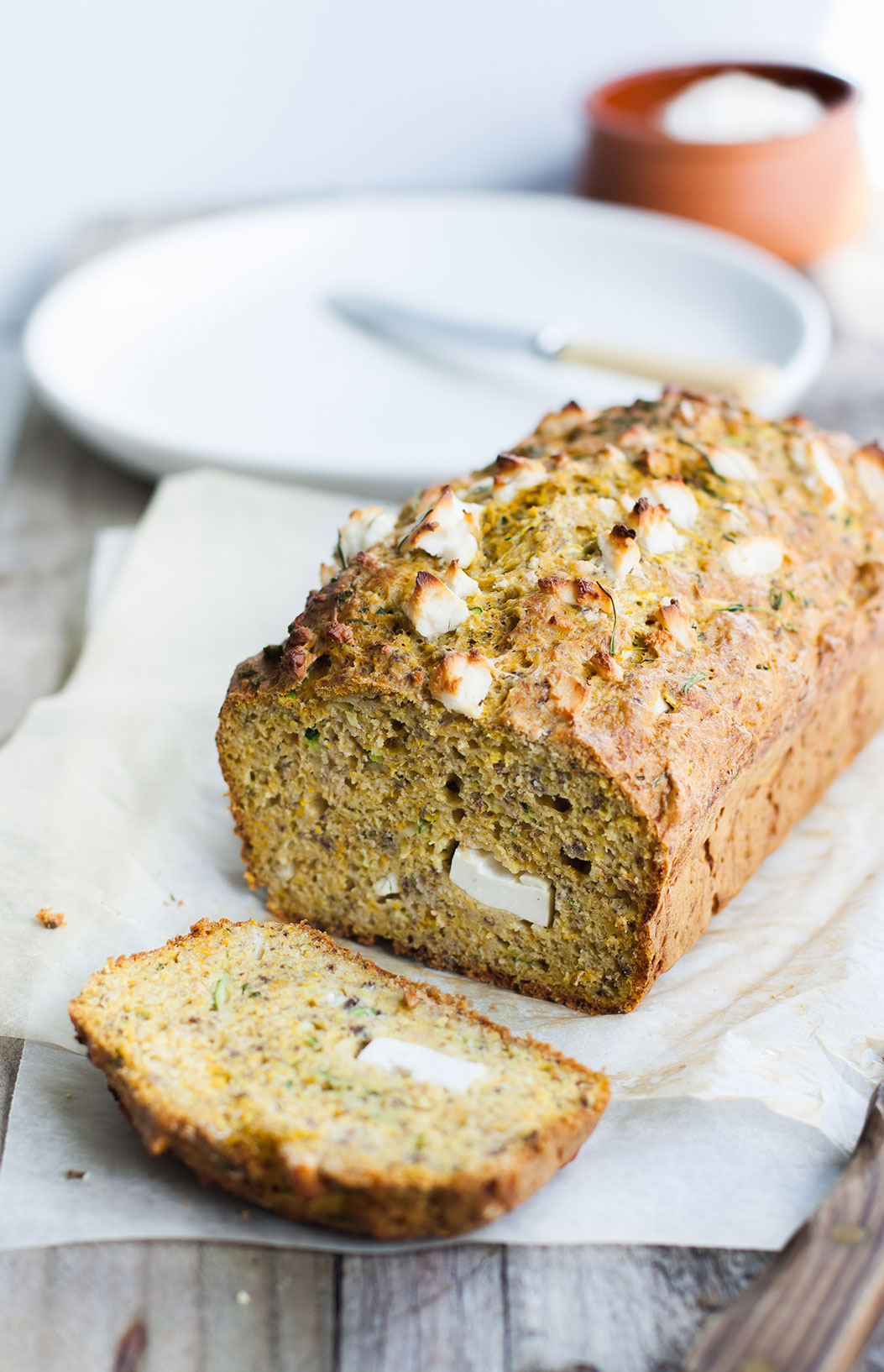 Method
Peel and slice pumpkin into even chunks and steam until soft, before mashing into a smooth puree (this can be done well in advance). Allow pumpkin to cool.
Roughly grate zucchini, squeezing out excess moisture until you have around 1.5 cups.
Next, preheat your oven to 180 C, and grease and line a standard loaf pan.
In a large mixing bowl combine flour, almond meal, flax meal, salt, baking powder and herbs. In a separate bowl, whisk together eggs and olive oil.
Add in wet ingredients into dry ingredients and mix until just combined, before folding in the pumpkin, zucchini and most of the feta (reserve some for the top). If the mixture appears very wet, add in 1-2 tbs of psyllium husk.
Transfer mixture into lined loaf tin and spread evenly , sprinkling extra feta and chopped herbs on top.
Bake in preheated oven for approximately 45-60 minutes (this will vary depending on your oven and the water content of your vegetables – I would recommend checking with a skewer at the 40 minute mark). It should be ready once a skewer inserted into the centre removes clean.
Remove loaf from oven and allow to cool in tin briefly, before transferring loaf to wire rack to cool completely.
Slice thick and serve warm or toasted, topped with fresh ricotta or quark and perhaps some beautiful smoked salmon, for a satisfying savoury breakfast, brunch, lunch or supper. It makes for the perfect 'anytime' loaf!
Notes
This loaf toasts really well and keeps nicely for up to 3 days. It can also be sliced and frozen, for easy baked goodness access at any time
Feel free to mix up the herbs added – based on what's in season where you are. You could also throw in some finely grated Parmesan cheese into the loaf batter for an extra 'cheesy' hit!