alimental (adj.) providing nourishment
sage (adj. and/or noun) profoundly wise
I believe that we all have the innate knowledge needed to eat well, but in our modern world many of us have lost the connection to real food and the simple art of growing, cooking and celebrating food.
'The Alimental Sage' is itself the possession of the intuitive wisdom needed to nourish oneself in health and life. It encompasses a way of cooking and eating that is
based on the provenance of fresh, local and whole produce that is prepared and used simply to provide joyful sustenance.
A way of living based on celebration of the little moments, the simple pleasures…random acts of kindness, the human connections…honouring the talents of others…and the formation of community.
THE ALIMENTAL SAGE IS FOR …
novice cooks, experienced hands; those who love to cook or live to eat; the creatives, travellers; the dreamers and the do-ers. In a nutshell anyone and everyone.
Whether you are in Australia or abroad; vegetarian or omnivorous; I hope that you find something delectable and inspiring within these pages, and begin to create your own food stories.
Yes, more than just a collection of recipes, the TAS blog will give a voice to these stories. The stories that underlie our food histories and rituals, the dishes we
love and the ingredients we cherish. Beyond food TAS will spotlight the people that are celebrating food and life, The Alimental Sage way, creating their own stories and doing what they love, and the places where this magic happens, both here and abroad, with food inspired travel features to keep you wondering.
Ultimately, it is my hope that we can grow a community not only online, but in person too, through gatherings and other regular events.
For now I wish you the warmest WELCOME.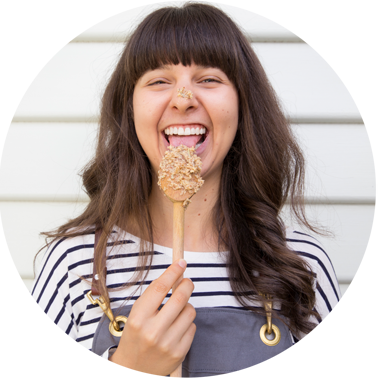 OH, AND ME!
Well, I'm Camilla, a self-taught cook (the messiest there is!) and an all round food obsessed little minion. I'm also a qualified Nutritionist and Dietitian (the kind that often eats cake for breakfast…damn good cake too… not the conventional store bought stuff!) and I ain't into fads of any kind. Whole, real, fresh food is where it's at for me (even better if you can grow some of your own!) and I believe that food is to be enjoyed and celebrated. I am currently based in Melbourne, Australia,
renowned for it's coffee and food, but I've only recently gotten on the coffee bandwagon (previously a bit of a wimp), and have quite a penchant for a fancy filter (or dirty water as my headstrong Italian, espresso drinking, parents say!). Update: now fully addicted to the strongest espresso coffee. Did NOT take long! Ha.
…BUT enough about me. This is a place for all of us to share and celebrate the simple pleasures in life… and to cook and talk about FOOD (of course)!