Classic Banana Bread
Categories: breakfast, brunch, baked, sweets
21 12 2015
Arghhh banana bread. It's the fail-safe, comfort food breakfast favourite of almost everyone I know (unless you dislike bananas that is?! Do such people even exist?!).
It's also number one on my 'procrastibaking' list, when the stresses of life get that little too much and all that will save me (or so I'm convinced!) is a healthy dose of cooking 'escapism' and the promise of baked goods.
Yep, when I spy some bananas in our fruit bowl looking a little too 'tanned' shall we say, whipping us this banana bread is the ONLY acceptable solution.
The loaf is an 'all-in-one-bowl' kind of wonder (because less dishes/minimal steps = winning!), and has been our super easy 'go-to' family recipe for as long as I can remember. It also provides a great base recipe which can then be 'embellished' with all manner of delicious bits and bobs, including chopped dried fruits, frozen berries, chopped dark chocolate or even your favourite combination of sweet spices.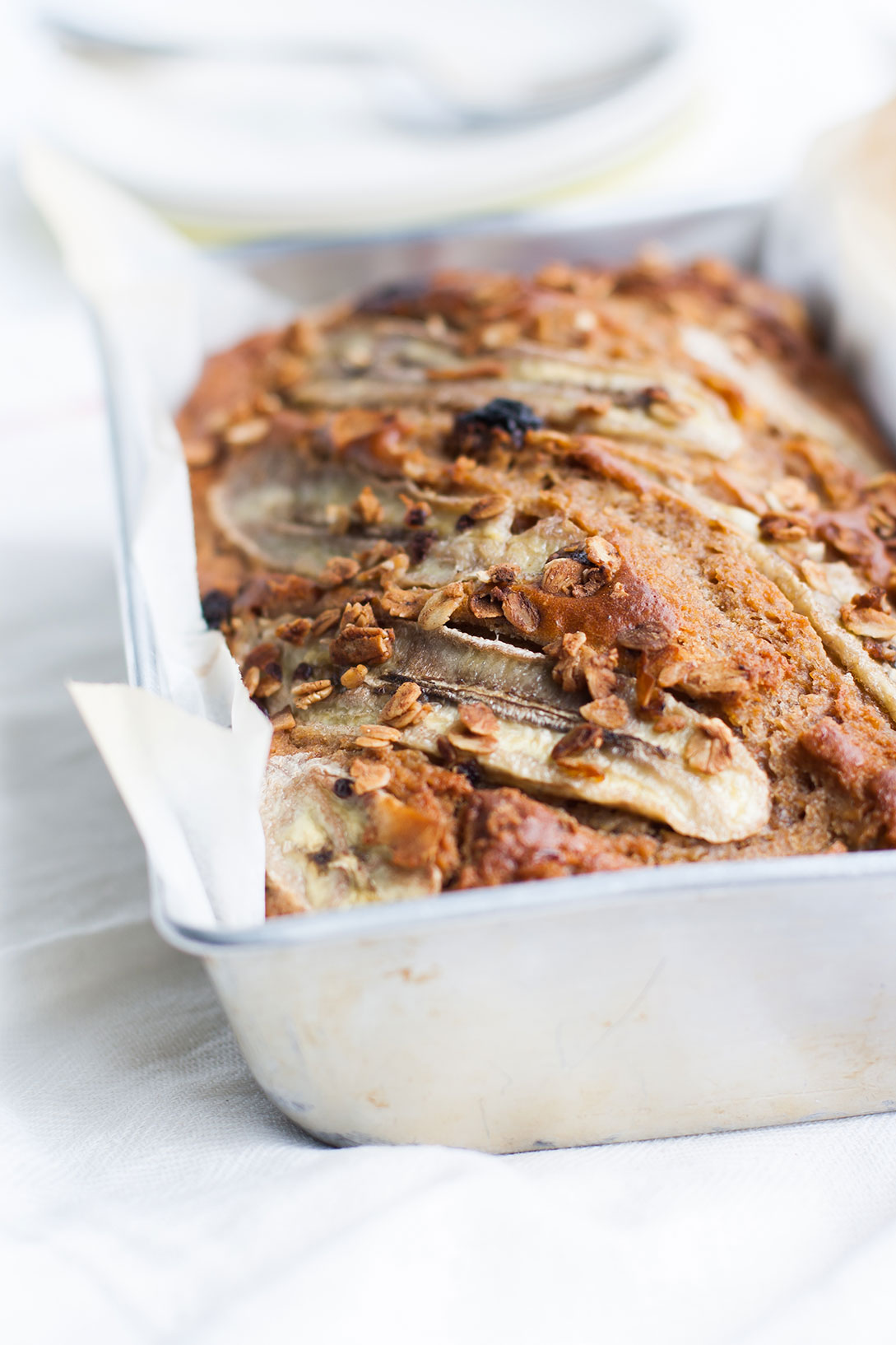 This time around I topped the loaf with a little homemade gingerbread granola and some chopped dark chocolate (for a rather festive twist), but I do love the original 'purist' version, especially when slathered warm with some tahini or cultured butter…or topped with fresh ricotta and honey for a wholesome, comforting breakfast. In fact, if you have a few fresh figs lying around, they certainly would not go astray as a delicious topping either?!
I also love using spelt flour (white or wholegrain) in this loaf but standard unbleached white or wholegrain wheat flour works just as well. If you're after a gluten-free version, however, then check out this banana breakfast bread.
So the question begs are you a banana bread fan? Do you have a favourite recipe?
If not (gasp!0) , what's your go-to comforting loaf?
I'd love to know.
Merry Christmas lovely people!
xx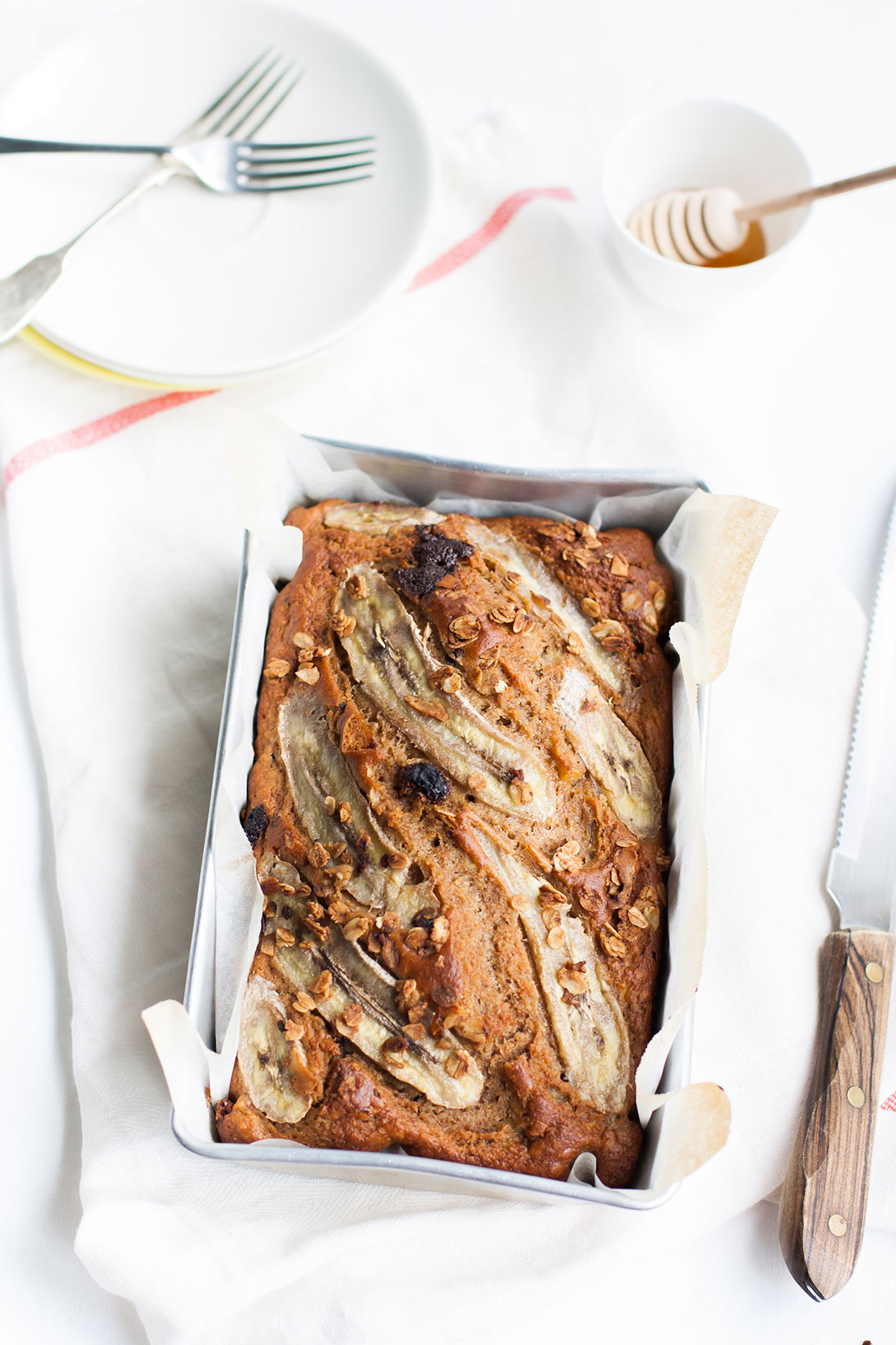 Classic Banana Bread
Makes 1 loaf.
2 cups spelt flour (white and/or wholegrain)
1/2 cup rapadura (unrefined) sugar
2 tsp baking powder
2 tsp cinnamon, ground
3 medium ripe bananas (save one for the top)
250 ml milk (of your choice)
2 large eggs
1/4 cup olive oil
Butter (for greasing)
Handful granola and/or chopped dark chocolate (optional topping)
Method
Preheat oven to 200 C and grease and line loaf tin with baking paper.
In a large bowl, mix together dry ingredients (flour, baking powder, cinnamon, sugar). In a separate bowl (or jug) whisk together milk, eggs and oil.
Incorporate wet ingredients into dry, being careful now to over-mix the cake batter.
Remove the skins from the bananas and roughly mash TWO of the three bananas with a fork (save one for the top). Then incorporate this mashed banana into the cake batter.
Carefully pour cake batter into prepared tin. Top with long slices of remaining banana and a handful of chopped dark chocolate and/or granola if you wish.
Bake in preheated oven for 40-45 mins and/or until cake is golden brown and skewer inserted into centre of cake removes clean. Do keep an eye on the cake as it cooks – if you find it browning too quickly then simply place a sheet of baking paper on top to cover.
Allow cake to cool in tin for at least 10-20 mins before removing and allowing to completely cool on a wire rack.
Best served warm/toasted with lashings of fresh ricotta and a drizzle of pure honey!
Notes
Cake will keep fresh for 2-3 days at room temperature (although sometimes if the weather is very warm we will pop it into the fridge as the banana can cause the loaf to spoil too quickly!).