Banana Breakfast Bread
Categories: breakfast, brunch, baked, sweets
25 07 2015
I don't know if it is just me but there is something just so damn comforting about baking (and eating) a loaf (of anything really!). Whether it be slicing into a crusty, sourdough boule; slathering housemade fruit bread with butter or one of my favourite loaves of all time…. freshly baked, warm banana bread.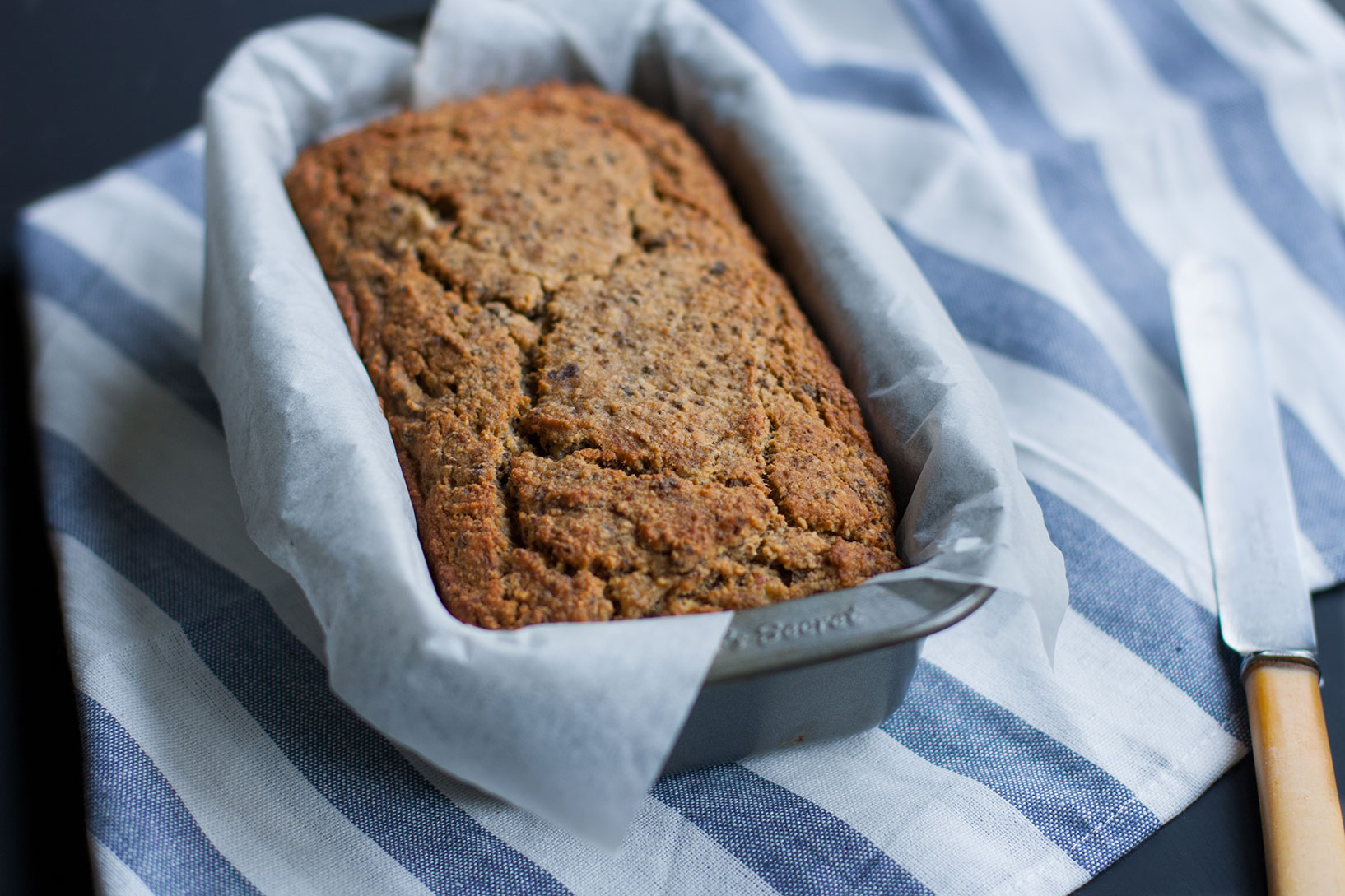 Hence, why one of the first recipes to be featured on this site, is just that. I have many versions of banana bread that I bake (new dedicated site idea perhaps?), but this gluten free version is perfectly justified as breakfast food (read: healthy), although let's not dismiss the idea of eating legit cake for breakfast every once in a while.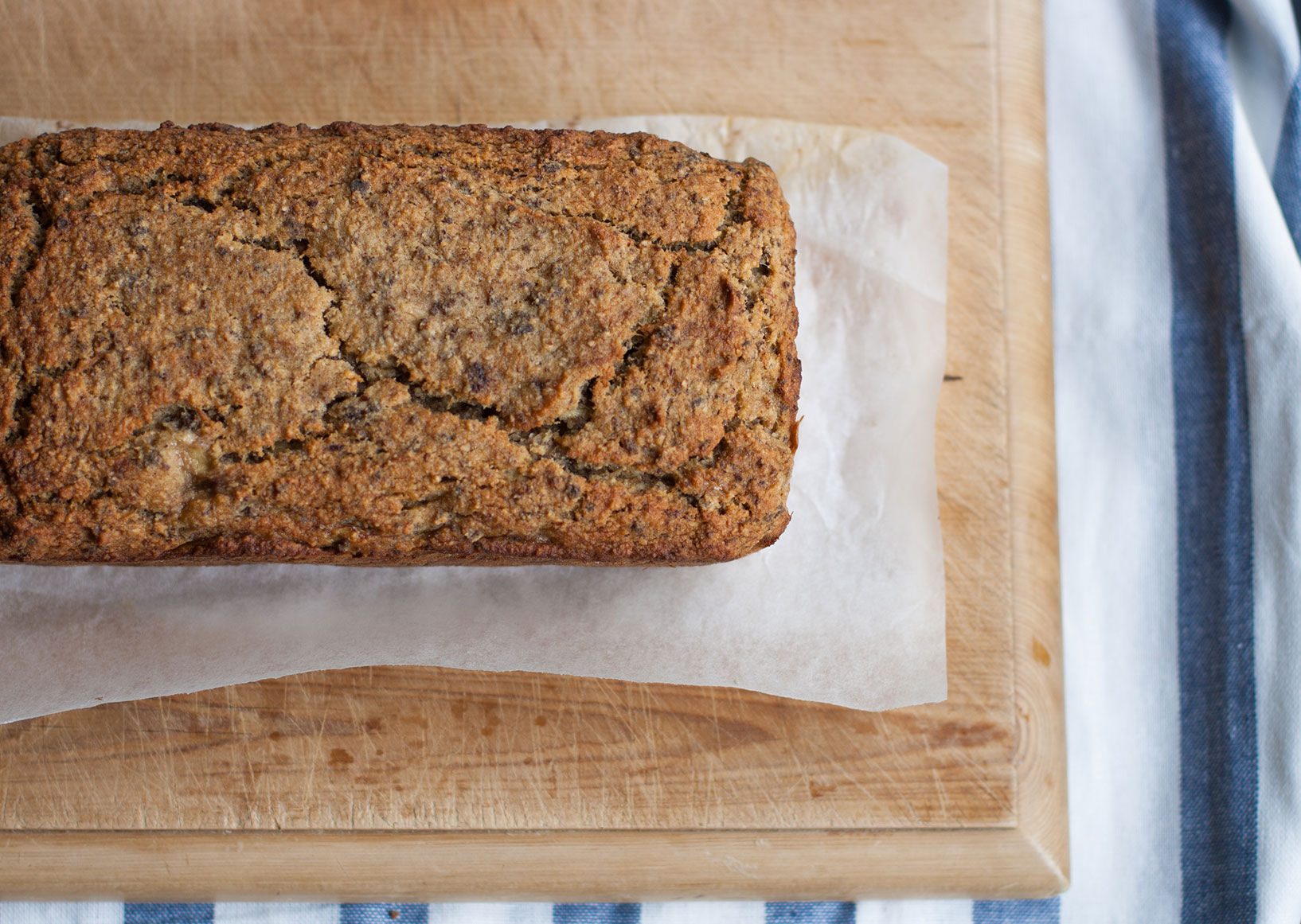 The use of almond and flaxseed meals with subtle sweetness from the bananas and a touch of maple, make this loaf dense, filling and less sweet than a traditional banana cake and thus a great sustaining option for breakfast (or lunch or dinner…no judgment here!).
I like to serve mine with some thick yoghurt, berries and a sizeable sprinkling of cinnamon (okay…it's more like a 'dump' of cinnamon- cinnamon fiend over here!).
This loaf doesn't have a super long shelf life, due to use of the almond and flax meals, so it tastes best on the day of baking, but I usually keep the leftovers wrapped in the fridge for 1-2 days, and toast before eating. Alternatively, you could also freeze thick slices to really make the loaf last (unfortunately, mine never makes it to the freezer! Ha!).
If you are in need of the food equivalent of a 'hug' or simply get high from 'that' smell of banana bread baking (I'm really hoping this is not just me!), then try this loaf.
All hail banana bread!
p.s if you make the loaf I'd love to see a picture #TASkitchen
Banana Breakfast Bread
 Makes 1 loaf.
2 cups almond meal
3 eggs, beaten
¼ cup maple syrup (optional)
¼ cup olive oil
2 large ripe bananas, mashed
1/4 cup psyllium husk (optional)
1/3 cup milk (of your choice)
1/4 cup flaxseed meal (or LSA)
2 tsp baking powder
1 tsp cinnamon
¼ tsp vanilla bean powder
Method
Preheat oven to 160 C.
Grease and line a loaf tin (size?) with baking paper.
In a large bowl mix together dry ingredients (almond meal, flaxseed meal, psyllium, baking powder, cinnamon, vanilla).
In a separate bowl, whisk together the wet ingredients (olive oil, eggs, milk and maple).
Add the wet ingredients to the dry, and stir until just combined.
Fold in the mashed banana into the batter.
Pour mixture into loaf pan and distribute evenly using a spatula.
Place into preheated oven for around 50-60 minutes or until golden brown and a skewer (inserted into centre) removes clean.
Allow banana bread to cool for 10-15 mins before removing from pan. Loaf will be easier to slice when completely cool, so "attempt" to be patient.
Banana bread is best eaten fresh on day of baking or toasted 1-2 days after. Store if refrigerator or alternatively slice thick and freeze in individual portions.
Notes
LSA (a mix of linseeds, sunflower seeds and almonds) can also be substituted for straight flax meal.
Also feel free to adjust the sweetness of the loaf to your own tastes- if you have very ripe bananas then the maple syrup can be omitted.