Another birthday… and a few thoughts.
Tamsin's Table
10 05 2016
So last week I said hello to 23, and goodbye to 22 (…twenty twoooo!… *sung in best Taylor Swift voice*) and I spent the week eating, and eating, and eating, and drinking, and eating…like all good birthdays, naturally.
I also made the now annual trip up to Tamsin's Table with my good friend and creative muse Liz Wilson (you can read about previous TT adventures here and here!). It was a day spent long lunching: lots of eating, drinking (yep, more!), chatting and pondering. One of the best bits about the Sunday lunches at Tamsin's is meeting the other table guests and sharing stories. It never ceases to amaze me how much you can have in common with supposed strangers/new acquaintances.
Visits to Tamsin's seem to always get my brain ticking too! I think it's the country air and the slower pace (and probably the one…okay three…glasses of very good white wine!). There's also no mobile phone reception, so without the distraction of social media and the views of the rolling hills, my mind goes a little wild.
I told myself I would not take as many photos (having visited before)…but I couldn't not – the beauty of the farm astounds me, like the first time, every time. This also made me think about why exactly I'm encapsulated by photography.
It's not an obsession with Instagram or a preoccupation with styling (the sh*% out of) every eating, drinking and living moment, for likes and follows (as many people presume when they see me take photos). Rather, I take photos to not only capture a moment but to signpost the story associated, to cement words in time. Not because I don't want to be present and just enjoy the experience, but because I want the words beneath to live on. Photos taken serve as a personal reminder of a connection to a greater community, especially in those moments of loneliness.
Recently, I've not felt as motivated to cook for the purposes of styling and photographing recipes, but rather I've yearned to get out and explore. To meet people, hear their stories, capture their craft and share their experiences (whether here or abroad). This is part of the reason why there have been more 'People', 'Places' and 'Gatherings' posts of late. Yes, the 'Kitchen' will always be where my heart is but for now I'm enjoying taking the pressure and 'business' out of cooking, and reigniting a sense of wonder for new experiences, people and places. I hope you won't mind and I hope you'll join me for the ride?
It is my dream for The Alimental Sage to continue to grow to become a living, breathing journal of not only food, but of people, stories, travels and the celebration of life's simple joys. I am so thankful for all the kind, creative souls who I have already met in person (and/or online) on this wild path, and I cannot wait to meet more of you.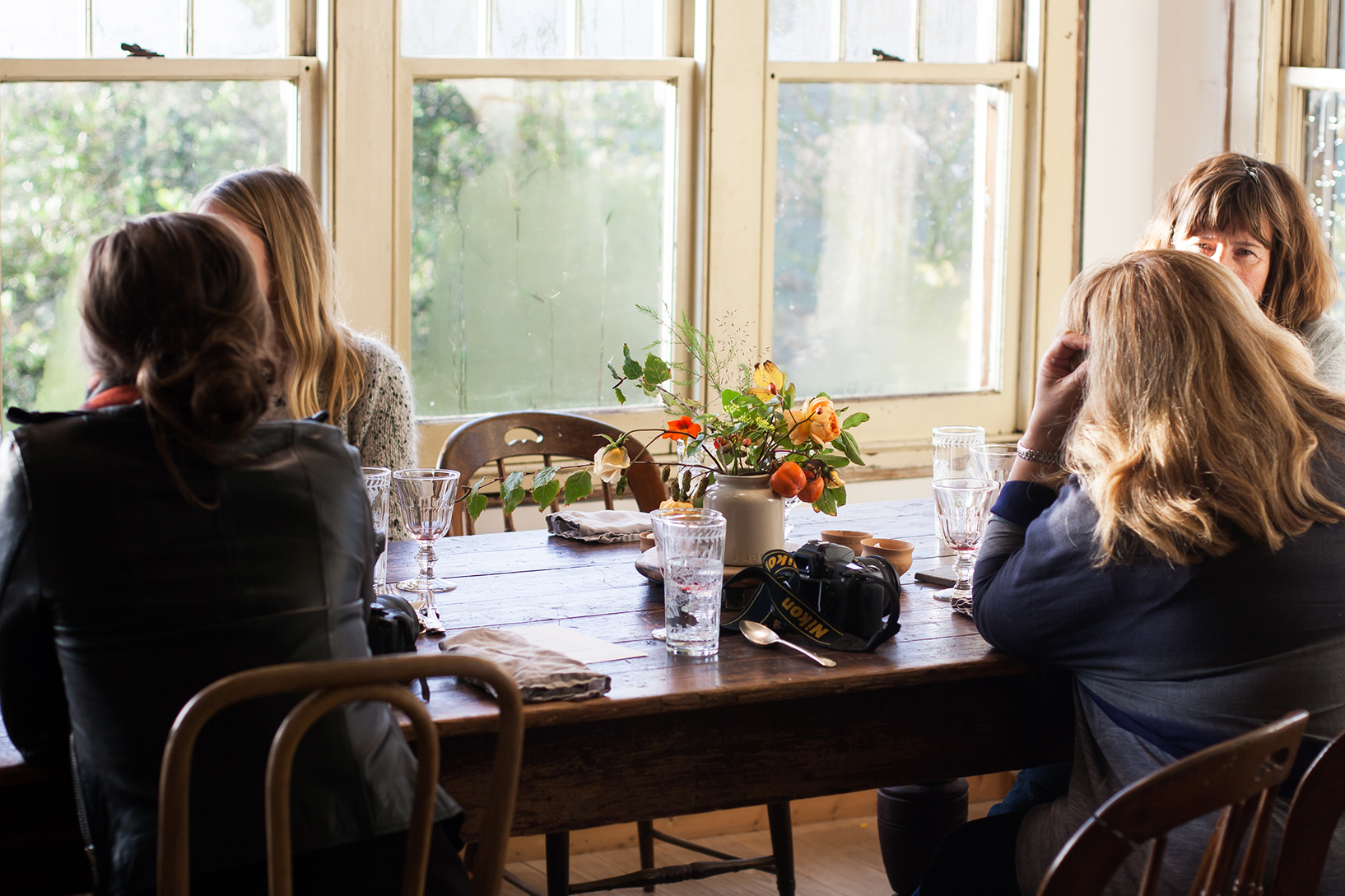 Let's all not be afraid to tell our stories, to pat each other on the back and continue sharing our own small moments, in words and images. The world needs more 'real-talk'.
Share with me your thoughts below? I would love to hear about you, your story or any other thoughts or concerns currently preoccupying you.
Oh and finally, rather than describing every inch of every dish and retelling every moment of our day at Tamsin's – here are an array of images taken. The words are up to you.