Exploring Orange, N.S.W
F.O.O.D Week 2017 adventures and more...
04 05 2017
For years, Orange in central west New South Wales was simply a place on the weather map that would make me smile every time it was mentioned during the morning news – its different and rather food-centric name catching my attention! Though never, did I think, years later it would be on my list of must-visit food and wine destinations, and that I would actually get to explore this beautiful town during it's infamous F.O.O.D Week?! Yet, that's EXACTLY where I found myself a month or so ago.
Orange, one of 18 regions in the Central West Tablelands, is renowned for it's thriving economy – a heartland for agriculture, including impeccable fresh produce, wine and livestock production thanks to rich, red and fertile soils, the result of the beautiful Mt. Canobolas (an extinct volcano). It's also a town of career and lifestyle opportunity – supported by new and expanding infrastructure, including a state-of-the-art health service, a vibrant cultural and arts community, and cafes and restaurants a plenty! Oh and did someone say great coffee? Tick, tick.
Their annual F.O.O.D (Food Of the Orange District) week is a 10-day celebration of all that makes Orange delicious. From food markets to apple rambles, long lunches to hands-on workshops, there is always a packed calendar of events! The festival also attracts a phenomenal 6000-7000 attendees every year (both locals and visitors alike), the night market alone drawing crowds of 1000's (a sight for sore eyes for this Melburnian too!).
With so much food and wine excitement in one place at one time – attending the festival has been on my bucket list for a while. Thus, naturally I was thrilled to be lucky enough to visit for the first weekend of this year's festival (courtesy of Brand Orange). I had an absolute ball eating, drinking, exploring and learning from many local business owners and producers!
Here is a wrap-up of just some of the fun (with LOTS of photos), BUT if like me you love good food, wine and country living – then definitely put Orange on your list of must-see places to visit. It's only an easy 3-4 hour drive from Sydney and/or Canberra too.
The night market
Orange's Night Market frankly…put's Melbourne's many to shame. Attracting 5000-6000 visitors over 4 hours – it is a festival of local, food, wine and music. A Friday night out, not to be missed. Hosted three times a year, in Orange's lush Robertson Park – it is a beautiful gathering of locals and visitors alike.
Orange Apple Ramble
Whilst Orange's apple industry has condensed over the years – the area is still home to some of the finest and biggest apple orchards. The annual Apple Ramble is a great way to learn more and taste the new season picks (some of the sweetest and juiciest apples I've ever tasted!). Piling onto a bus, we toured down Orange's winding country roads (the roadside dotted with rows upon rows of fruit trees and grape vines). Every stop along the ramble, a new apple-centred adventure. Highlights included wandering through the beautiful orchards, nibbling on fresh apples and giant apple muffins for morning tea, and lunch amongst the sun-kissed trees.
POP UP Lunch in the Paddock at Mandagery Creek Venison Farm
Sophie Hanson, is a dear friend and the face of renowned blog and cookbook Local is Lovely, who to many of you, needs no introduction. Together with her partner Tim and young children, they run Mandagery Creek Farm – producing some of (if not THE) finest venison in the country. I was lucky enough to attend their beautiful long lunch – our table set atop a hill in one of their many rambling paddocks. The setting overlooking Mandagery Creek, with a never-ending view of Orange's beautiful landscape. We could not have prayed for a more beautiful day!
For lunch, we enjoyed a menu of fresh, seasonal, sumptuous fare: from platters of arancini, pickles and venison terrine to start; pomegranate studded venison and tomato braised fennel for mains and buttery, sweet quince frangipane tarts with generous dollops of Little Big Dairy fresh double cream. We were also treated to homemade honeycomb and rich, sticky white chocolate nougat, to end. Our long, luxurious lunch was also perfectly complemented by wines from See Saw Winery (who are literally neighbours) – their prosecco by far a stand out!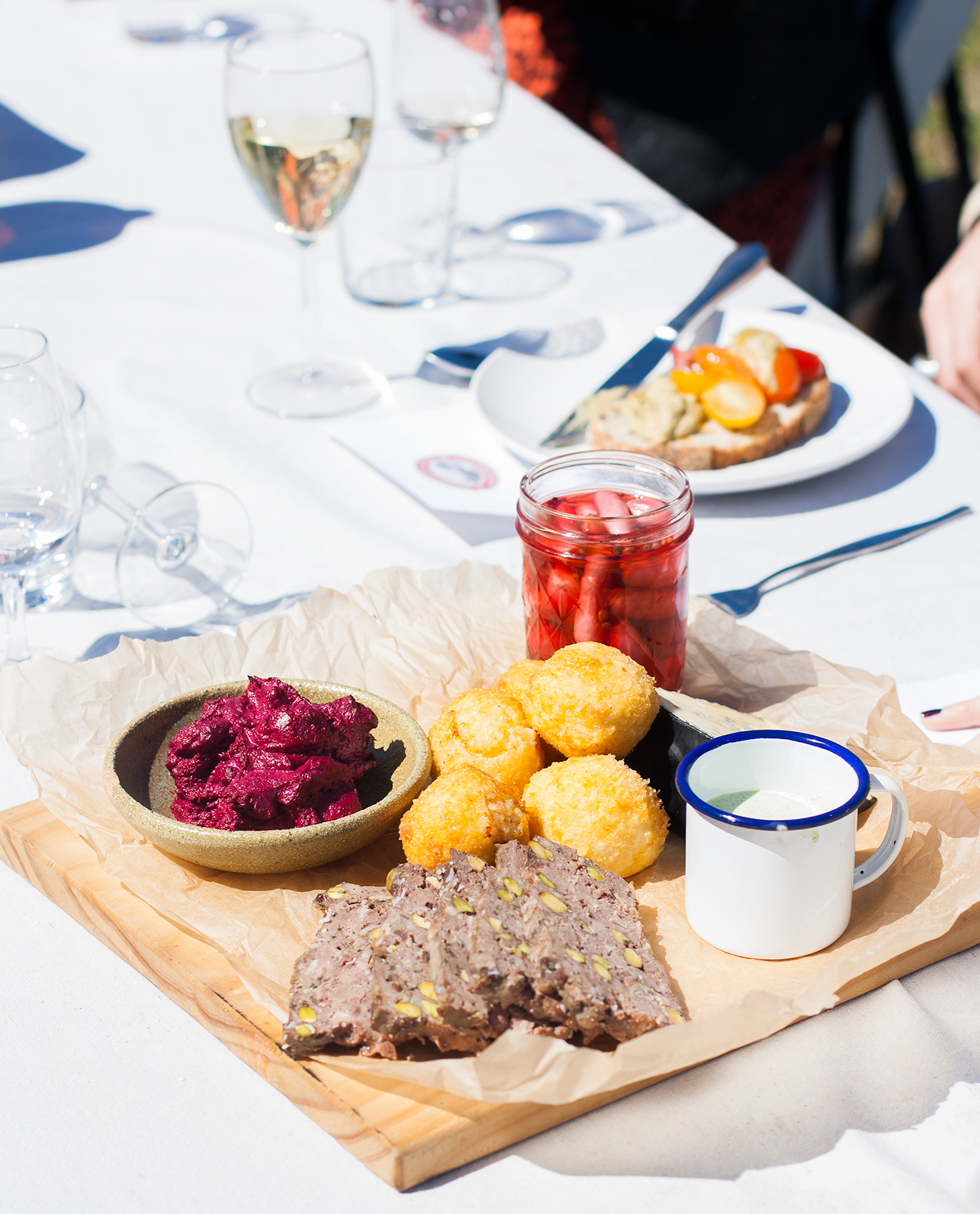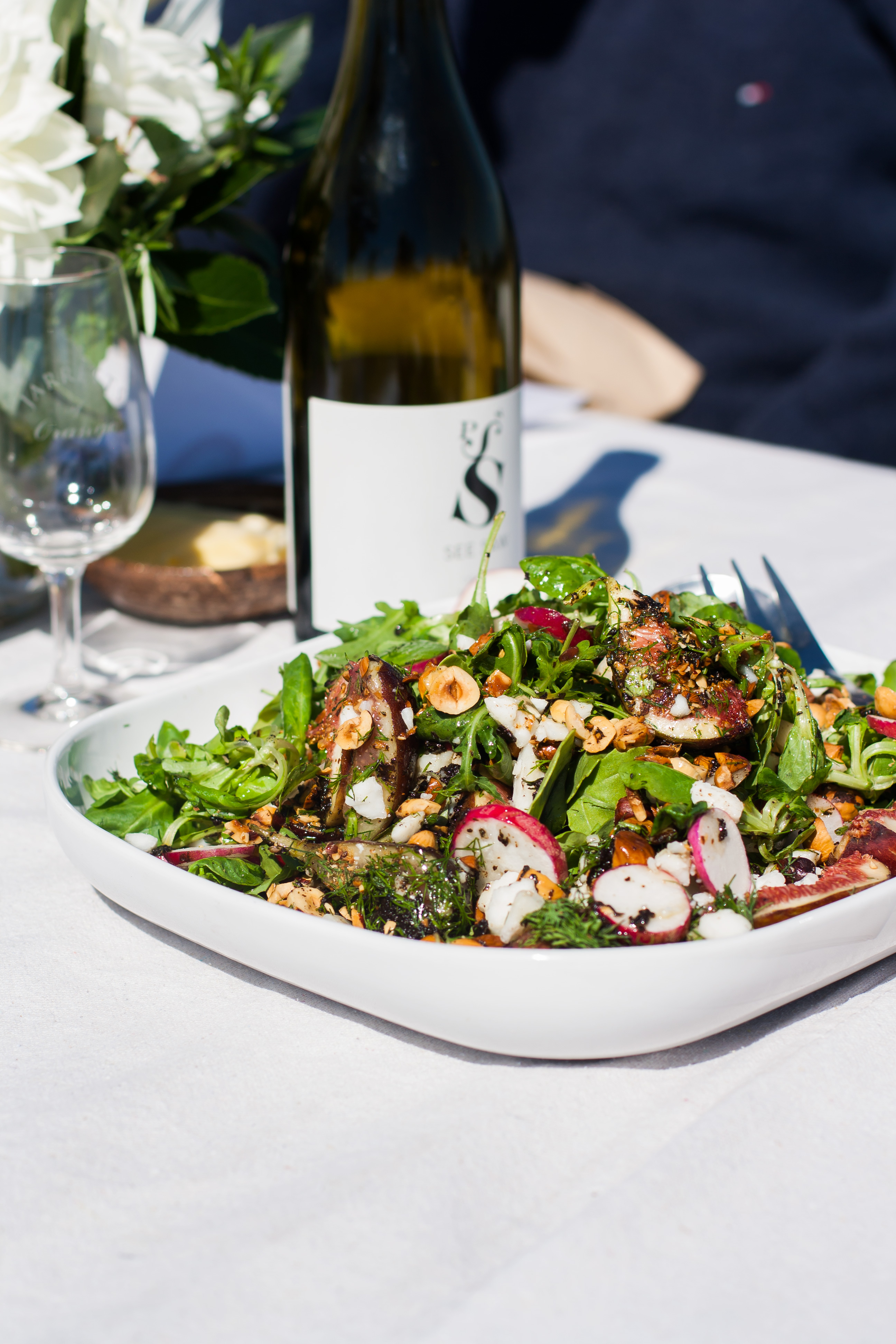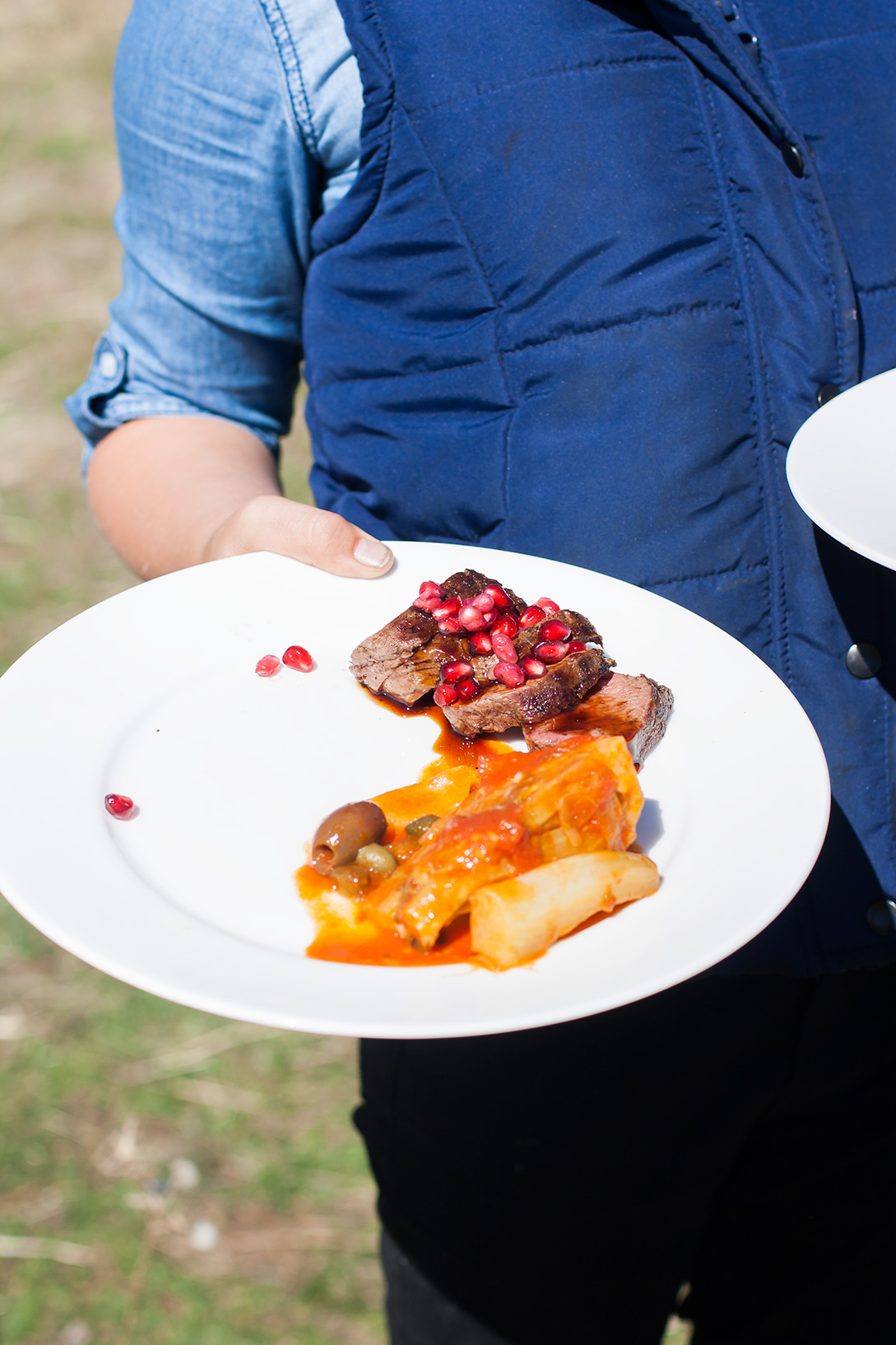 Cider making at Small Acres Cyder
I must admit, cider has never really taken my fancy, BUT I now know that is purely because I had not tasted REAL cider before. The kind made from fresh, in season fruit (apples or pears) using traditional techniques. It's a game changer! So, I felt very fortunate to learn about the traditional process used and sample the supreme cider produced by James and Gail at Small Acres Cyder.
In a few hours, I learnt a LOT about how true ciders are made, including that cider apples and eating apples are NOT the same thing AND that there are at least four primary taste categories of cider apples, including 'Bitter, 'Bittersweet', 'Sharp' and 'Bitter sharp'. The perfect cider consisting of the right mix of different tasting apple varietals, to achieve the right balance of sweetness, tannin and acidity.
I also came to realise why commercial cider usually tastes (frankly) just like sweet bubbles (hello diuted imported fruit concentrates with added sugar and CO2!). Not dissing those companies at all (if you're having a big party – sure buy some slabs!), but the flavour complexity of traditionally-made 'vintage' cider is SO worth paying for. My perceptions of cider completely reversed within the space of 3 hours.
A 10-mile dinner at De Salis Wines with Josie Chapman
It's not everyday that you get the opportunity to attend a dusk feast, cooked over open fire pits by the infamous Josie Chapman (of The Old Convent), overlooking the vines at De Salis Winery. The 10-Mile Dinner, an ever popular event, utilised fresh produce and grass fed meats sourced within a 10-mile radius of where we were eating, with many of the producers themselves present to eat with us all. It was a magical night to remember – each dish of Josie's rustic, welcoming food paired with beautiful white or red wines by De Salis. The conversations were flowing and many new local friends were made. I may have stood out as 'the random solo girl from Melbourne', but I was surely welcomed with open arms!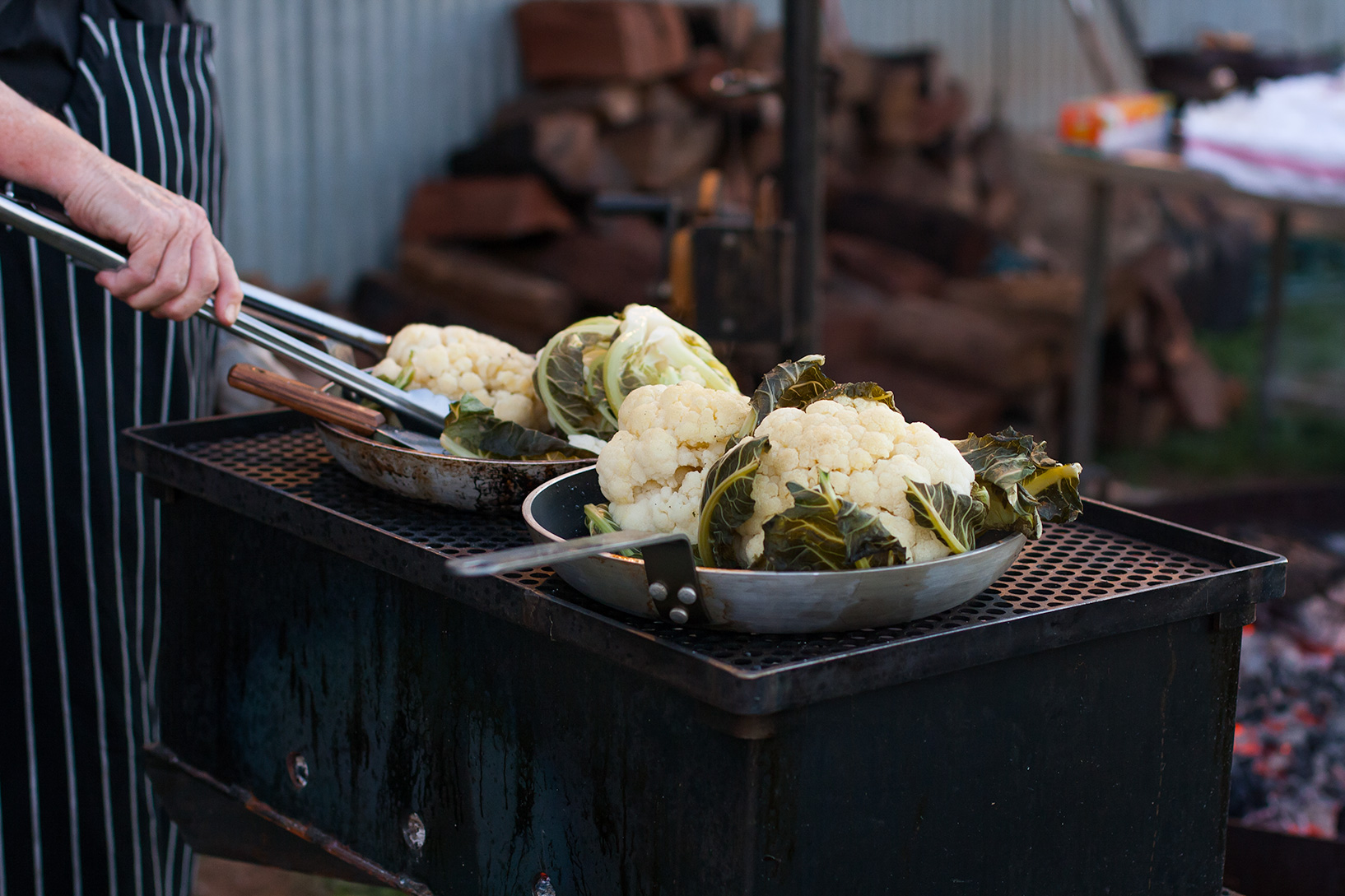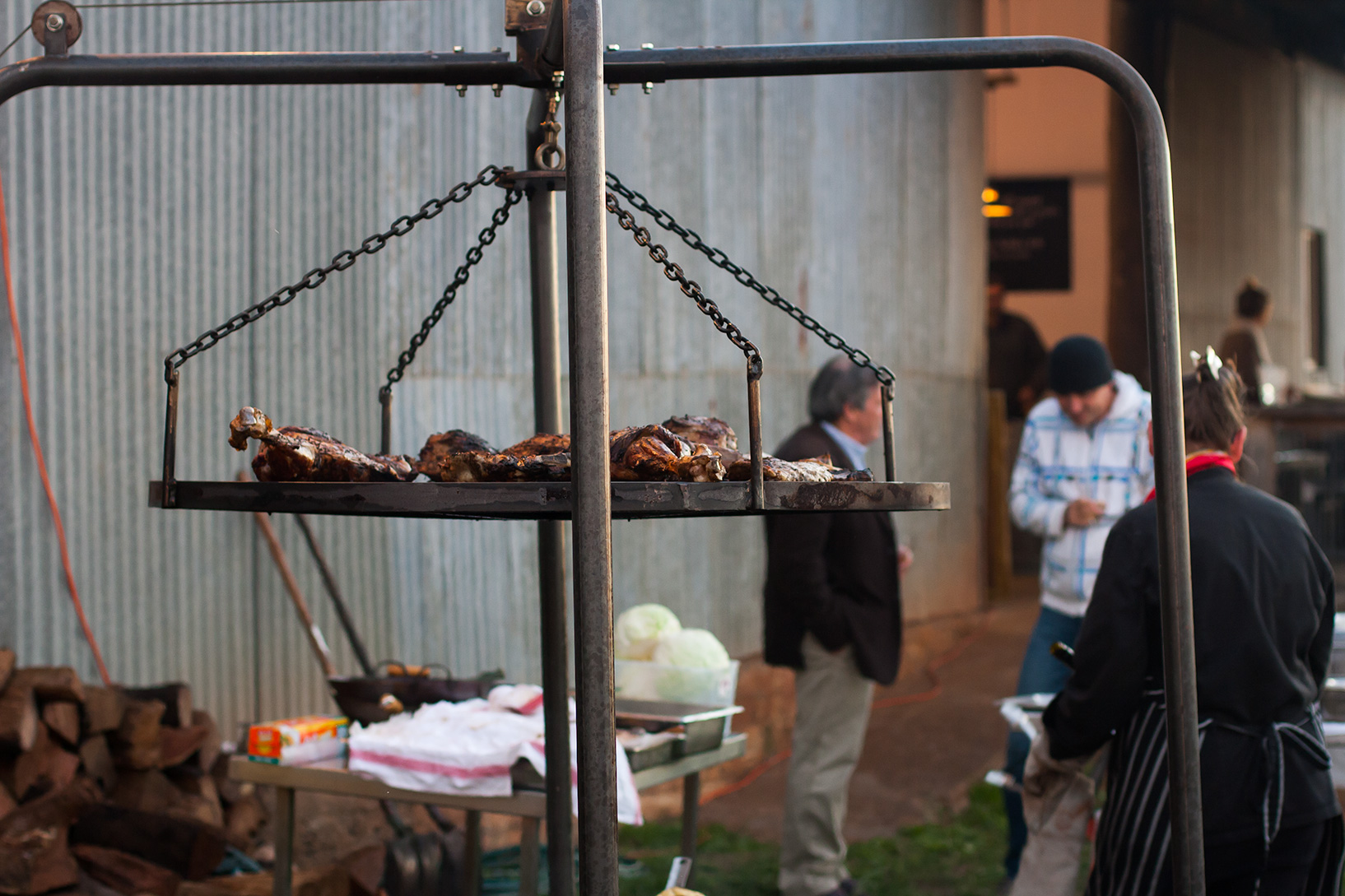 Here is a snapshot of the menu:
Entrée:
-A medley of silky, buttery mushrooms with garlic and parsley
-Beautiful pastured eggs served with fresh bread and mayonnaise
-Whole-roasted heads of sweet, sweet cauliflower served with the creamiest hummus and mint
Main:
-Succulent roasted lamb and ribs
-Whole-roasted butternut pumpkins (skins, stalks and all – so sweet and smokey!)
-Parmesan and black pepper cabbage slaw
Dessert:
-A cheese platter featuring Second Mouse's phenomenal washed rind cheese with sweet DeSalis muscatel grapes AND
-A simple dessert of sticky roasted figs and thick, creamy quark cheese.
Millthorpe Markets: food and craft
The country market of your dreams – visiting Millthorpe's food and craft market was the perfect way to spend a Sunday morning. After a delicious breaky at Millthorpe's The Old Mill café, a friend (and her two gorgeous twin boys) and I headed down to peruse the many market stalls. The vibe was uplifting and joyful. From handmade jams and pickles, olive oils and vinegars; to locally made clothing, jewellery, chocolate and more. You will certainly not leave home empty-handed. I left with some amazing fig balsamic vinegar (yes FIGGG!!!!) and some decadent single origin dark chocolate by Spencer Cocoa.
OTHER suggested places for food, coffee and shopping:
The Agrestic Grocer: Cafe and Produce Store
Disclaimer: I was lucky enough to visit Orange, and its infamous F.O.O.D week, as a guest of Brand Orange. All words, images and opinions, however, are my own.