Amsterdam
A city guide by Allison Grech
04 04 2016
Amsterdam is wonderfully contradictory, with it's cute cafés and smoggy coffee shops; cyclists and motorists competing everywhere; buildings that look like leaning doll houses against brand new museums; infamous red lights and sparkling street lamps; and a language that seemed like the perfect mix between English and German.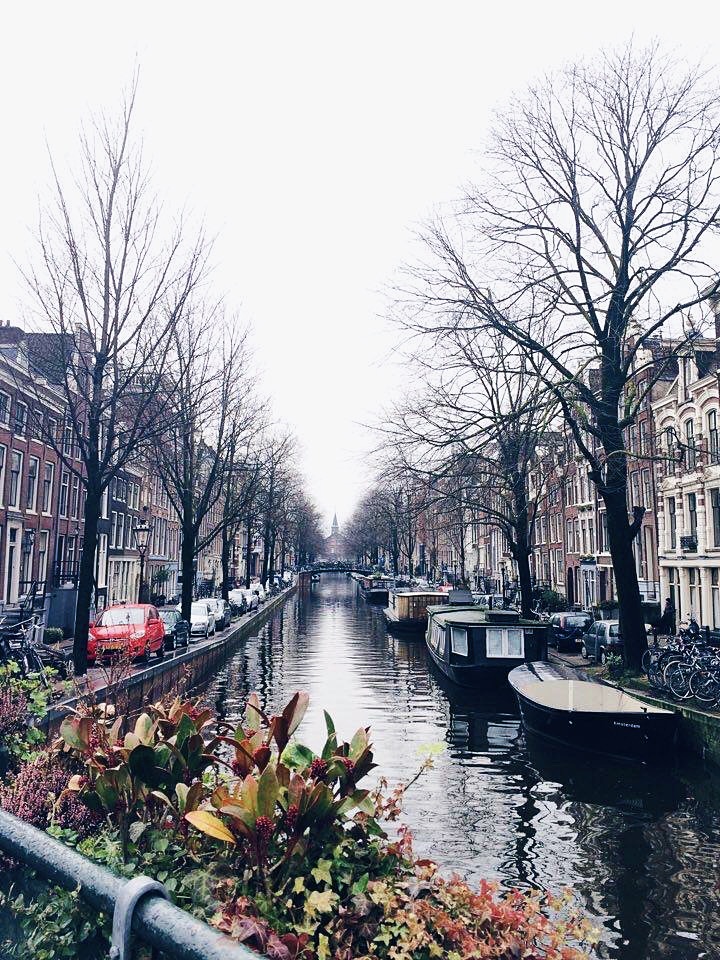 If there were one thing that you'd find hard to contest, it would be the quality of Amsterdam's food. It could have been the rainy, sometimes snowy, January weather. Or maybe the fact that we never quite worked out the logic behind the canals, snaking between streets like hedges in a maze, which meant we were almost always lost. Either way, every time we ordered food – on the street or cozying up inside – we couldn't help but feel comforted by the usually simple, but no less delicious Dutch dishes that warmed both our bellies and our hearts.
1. Moeders (Rozengracht 251, 1016 SX Amsterdam)
Moeders, 'Mothers' in Dutch, feels like sitting in your grandmother's house and the food is just how you'd expect it – hearty, hot and served up on vintage crockery (apparently, when the restaurant was opened, the owner asked guests to bring a plate, glass and cutlery – and these are still used today!). The place is exceptionally cozy, and its walls are covered in photographs of mothers in mismatched frames, from young Moeders to old Oma's, and you feel as if eating there grants you access to something bigger, part of a community.
Try erwtensoep (a thick, green soup made with split peas, carrot, onions and celery, with added bacon and fluffy bread for dipping) and stamppot (potatoes mashed with another vegetable – we had spinach – served with Dutch sausage and gravy), traditional favourites that would make any moeder proud.
2. The Smallest House (Oude Hoogstraat 22, Amsterdam)
At only 2 metres wide and 5 metres deep, The Smallest House is literally just that. Housing a wonderful collection of tea and ceramics, the tiniest house in Amsterdam is a gorgeous place to hide from the cold or simply peruse the collection of teas, my favourites including Dutch Earl Grey and the House Blend. I loved it so much we went back twice, and were invited upstairs to the tiny tearoom, where we enjoyed white tea and Boterkoek (Dutch buttercake) as the rain outside turned to snow and the shop owner told us of the history of the shop, of his family, and of course, about Dutch food (even writing me a checklist and a recipe to take home!)
3. Singel 404 (Singel 404, Amsterdam)
When you decide on "just a sandwich" for lunch and a mountain of veggie-packed, heavy-on-the-hummus deliciousness arrives at your table, you know you're on to a good thing. Sitting right by the Singel canal, this café is a wonderful place to watch the buzz of Amsterdam stream by and more-than-fill your quota of lunch time veggies at the same time.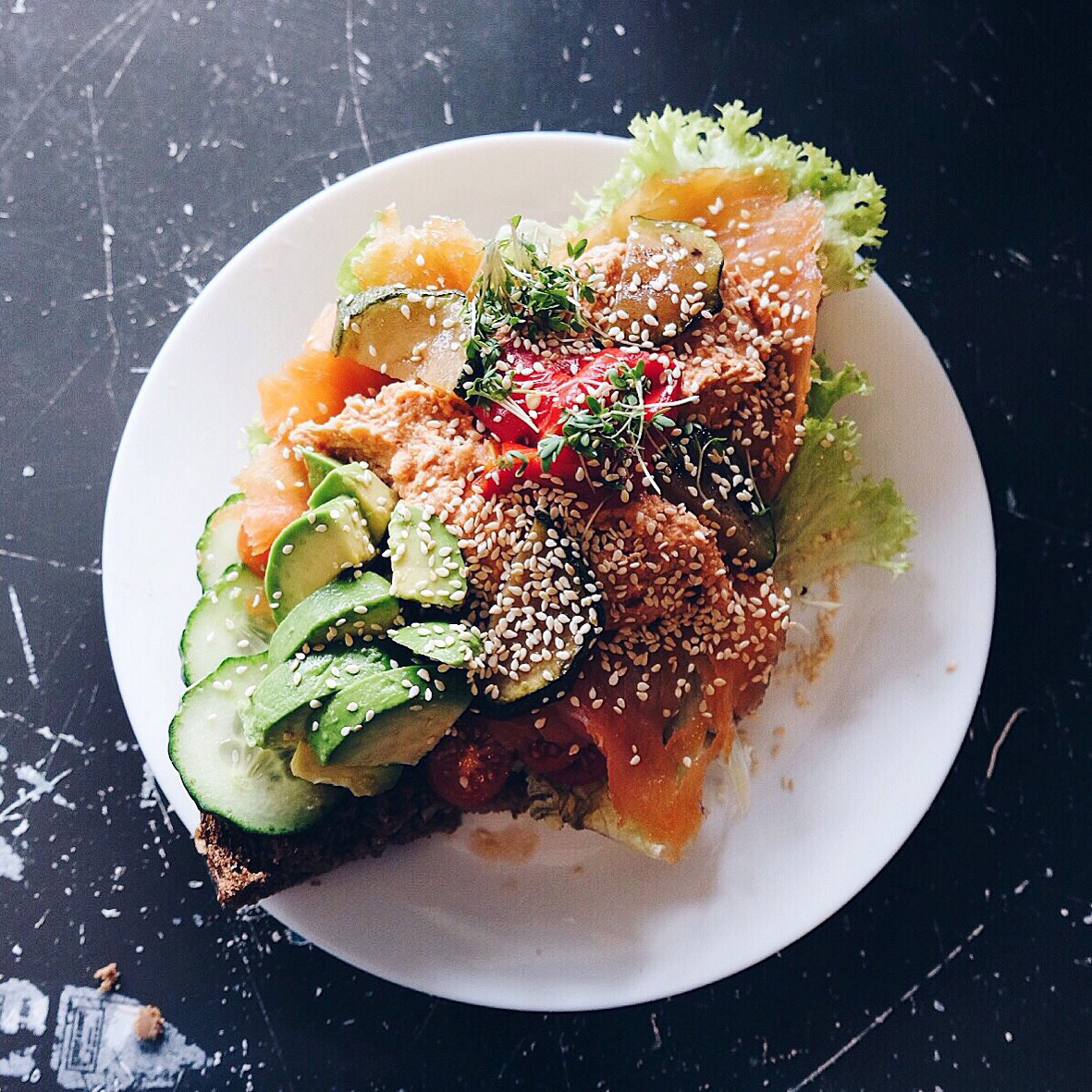 4. Van Kerwijk (Nes 41, Amsterdam)
Sitting on an unassuming street just off Dam Square, Van Kerwijk is a beautiful little café and restaurant serving seasonal food from a rotating menu that waiters swiftly and enthusiastically explain – no written menus here. The biggest trouble you'll have – if you can remember the menu after hearing it! – is deciding what to have. My favourite was beef with feta, strawberry and balsamic sauce (and I'm not a huge meat eater!), and all meals come with a generous portion of salad and chunky, crispy chips on the side.
5. Albert Cuyp Markt (Albert Cuypstraat, 1073 BL Amsterdam)
One of my favourite things to do when travelling is visit local markets. But getting to these markets wasn't easy; we battled intensifying, almost-horizontal rain on bicycles in our attempt to make it to Albert Cuyp Markt. The stands here sell everything from fruit and vegetables to traditional raw haring (herring fish) and bitterballen, to clothes and bedding. But our visit was really only for one thing: stroopwafels. Literally translating to 'syrup waffles', stroopwafels are made from two thin waffle layers with a delectably caramel-y, cinnamon-y syrup in between. At the markets they are cooked fresh to order, but you can also buy them at supermarkets, designed to sit on top of your mug of coffee or tea, perfect for dipping.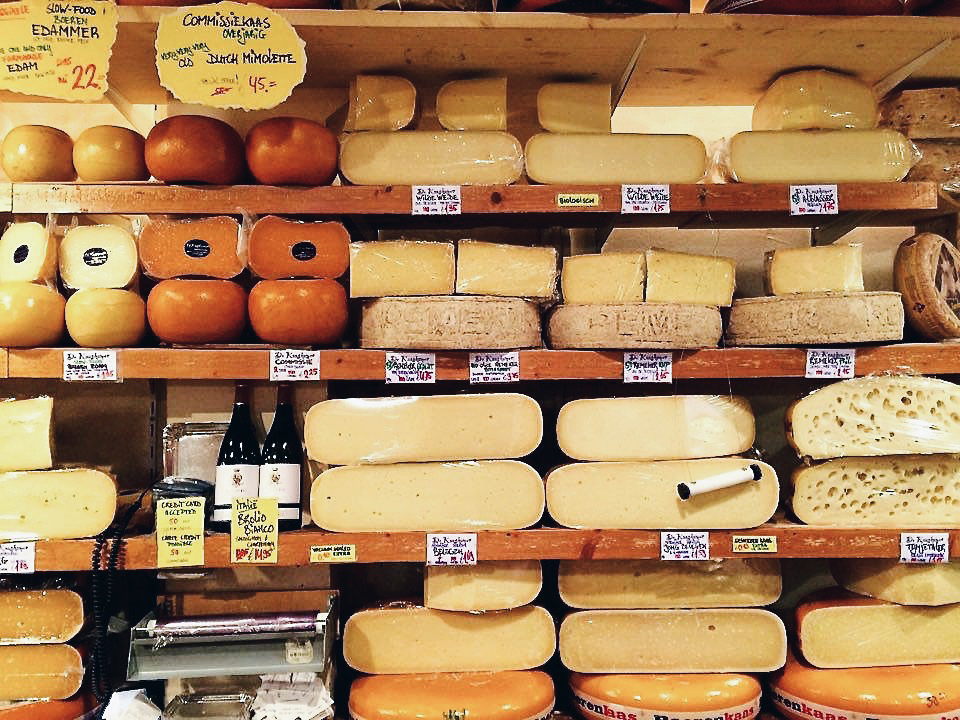 On that note, do yourself a favour whilst in Amsterdam and buy yourself some speculoos butter from a supermarket. Tasting almost like gingerbread but with the consistency of smooth peanut butter, spread on crêpes or toast, drizzle over ice cream or use as a dip for fruit. In my opinion, it's even better than Nutulla. You be the judge. Either way, you won't regret it.
Other things to try when in Amsterdam:
Dutch cheese. There are cheese shops everywhere in Amsterdam, which is perhaps unsurprising since Holland is the largest cheese exporter in the world. Be sure to try the favourites – Gouda and Eden – alongside some Dutch mustard and crusty bread.
Dutch pancakes. There are many places around Amsterdam selling both savoury and sweet pancakes, alongside poffertjes – small, fluffy pancakes usually served with powdered sugar and butter.
Dutch drop (black licorice). I learnt that the Dutch love their licorice, especially drop, slightly salty but still sweet, and often served as an after-dinner treat.
About the author..
Allison Grech ('Alli' to most) is a Sydney shutterbug, Dietitian and Nutritionist, who is fond of food, colour and the sharing of stories. You can find her wandering and snapping all things food and community on her travel adventures. Find her on Instagram here @alligrech.