Casey Pringle
RAW Chocolate Maker
14 08 2015
Here at TAS we LOVE chocolate…and we also LOVE people that make chocolate, thus it is a no brainer that we introduce you to Casey Pringle, creator and chief chocolate maker at RAW Chocolate. Casey makes small batch raw chocolate out in Victoria's Macedon Ranges. Her beautifully packaged chocolate bars are crafted from the highest quality cacao and free from refined sugars and additives – flavoured simply with pure essential oils and sweetened with coconut nectar.
The result is a delicious rich and fudgy chocolate treat that we have you coming back for more…try not to eat the whole bar in one sitting (we dare you!). Her original Wild Orange and Date bar is our personal favourite, but she has also just released a very popular Peppermint and Coconut flavour that you may have seen flying around over the interwebs.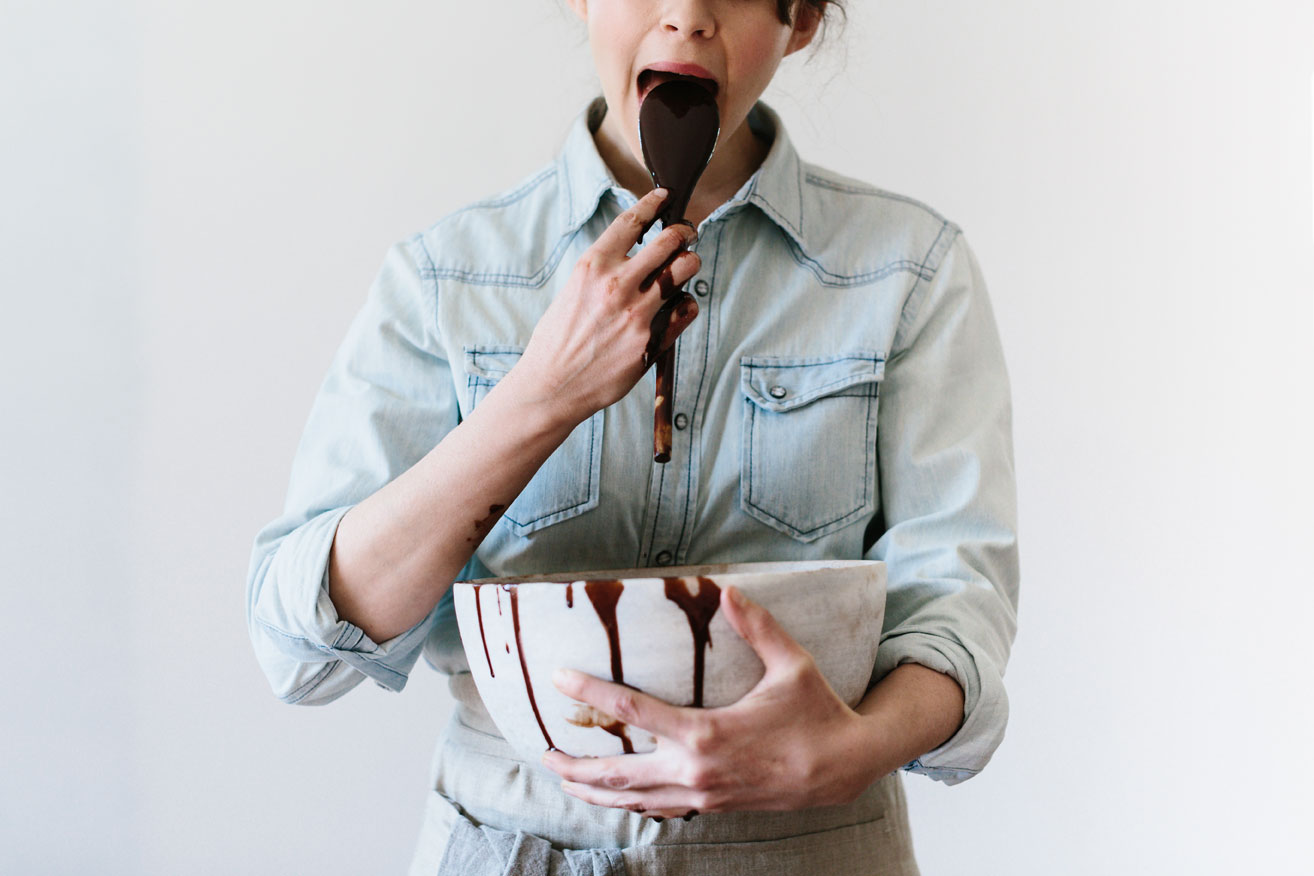 We can't wait to see what future chocolatey creations she comes up with…AND be sure to keep reading below for a drool-worthy recipe to her Coconut and Peppermint Cheesecake Slice. Like Casey, we also have a thang for cheeeessseeecaakkkkke!!!
Now over to the lady herself…
1. Tell us a little about yourself? How do you spend your days?
Most days I'm juggling the tasks of my various roles; wife, mother and business woman. In between making chocolate there's usually a bit of administration and housework but the flexibility of being my own boss allows me to do it all at my own pace. There's also more opportunity to spend quality time with my husband and son or just by myself reading a book. I like to be out in nature as much as I can, whether it be walking in the reserve next to our home or mountain biking. My favourite thing to do is create, so I'm constantly trying out new recipes and thinking of different things I can do in my business.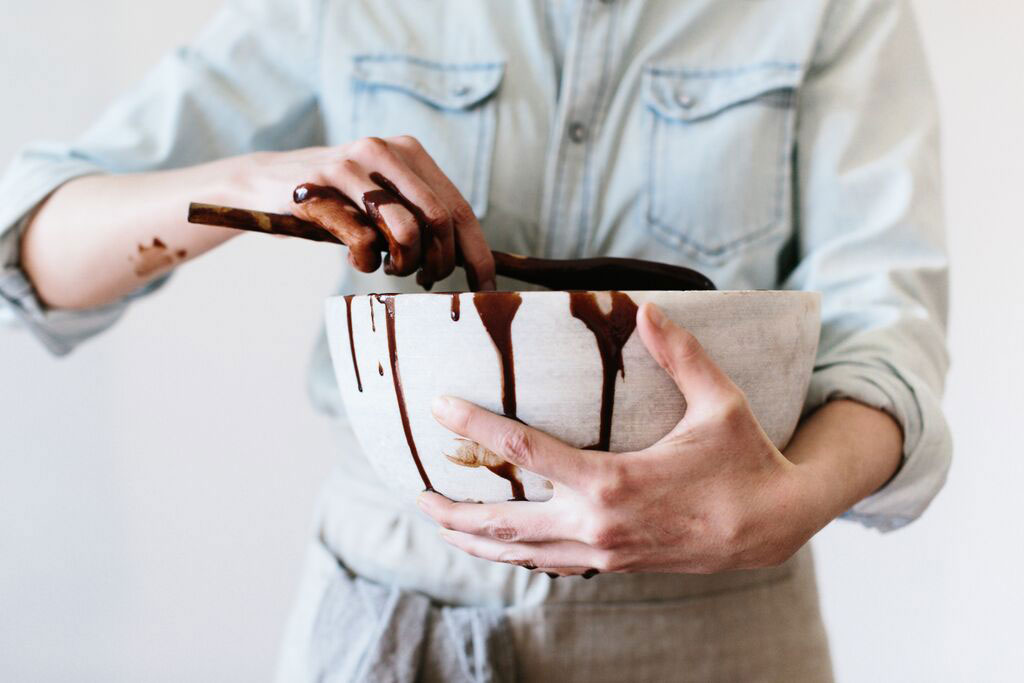 2. How did the RAW Chocolate journey begin? Who/what inspired your love of making chocolate?
I made a conscious decision to eat more nutritious food when I became pregnant and I quickly became aware of the health benefits of raw cacao and coconut nectar. I've always loved chocolate but was never able to find any that was exactly suited to my palate. These two factors resulted in me making my own chocolate. I then shared my chocolate with friends and they suggested I sell it at the local farmers' market. The rest is history. I suppose my love of making delicious food began when I was a child though. My mother's an excellent cook and she inspired a love of food and creating things in the kitchen, as well as chocolate. Chocolate is very popular in my family. I think I'm happiest when I'm making and sharing nutritious food with my family.
3. What does food mean to you? Do you have a food philosophy?
Nowadays food means fuel to me. However I love eating so much that I'm not willing to compromise on taste, so my food must be delicious as well as healthy. I guess that's my food philosophy. I'm also very passionate about keeping things simple and respecting the ingredients I'm using. I love to eat consciously, mindfully and gratefully. Knowing where my food comes from is really important to me.
4. What's next for RAW Chocolate? Any other new flavours on the cards?
There's definitely new flavours in the pipeline but I'm keeping them under wraps for the moment. I can't tell you where RAW Chocolate's going to end up in the future as I don't really know just yet. I'm just staying open and letting it take me on a bit of a journey. Anything could happen!
5. Do you have a special recipe you can share with us? What is the story behind it?
Slices are one of my favourite things. They remind me of my mother. She loves baking and I remember that she always had slices ready for our lunch boxes. They were the envy of all of my friends and remained that way because they were really too good to share. I recall that they made me feel loved, nurtured and cared for on a cold winter's recess at school. A reminder that my mum was thinking about me. I could feel the love she put into each batch. Cooking for others is therefore very special to me and one of the ways I show my love for my family and friends, just like my mum does.
Another of my favourite things is cheesecake. The fudgy texture with a chewy biscuit base and a combination of sweet and ever so slightly savoury is perfection in a mouthful! My mum's signature dish is her White Chocolate Cheesecake with Raspberry Coulis. It only comes out once a year at Christmas time and is really the highlight of the day.
Peppermint and coconut is a favourite in the Pringle household and, of course, chocolate too. So I've used all three ingredients in this "cheesecake" slice. It combines my mum's talents with mine, her reputation for slices as well as cheesecake together with my ability to make a delicious treat nutritious.  My husband's my chief taste-tester and he was lost for words when he tried this one. He eventually came up with one word… "perfect". I hope you think so too.
Peppermint & Coconut "Cheesecake" Slice
Base:
1 cup almonds
1 cup shredded coconut
1/4 teaspoon sea salt flakes
1/4 cup raw cacao powder
1 tablespoon melted coconut oil
1/4 cup coconut nectar
Filling:
400ml coconut cream
1 cup raw cashews
1/2 cup melted coconut oil
1/4 cup coconut nectar
5 drops food grade peppermint essential oil
Topping:
1 peppermint & coconut R A W Chocolate bar, chopped
Method
Base:
1. Line an 18cm square tin or dish with baking paper.
2. Process almonds and coconut in a blender or food processor until fine.
3. Add remaining base ingredients and process gently until mixture is fully coated and sticking together. You may need to stop the blender or food processor and scrape the sides down to ensure the ingredients are well combined.
4. Pour mixture into the tin and flatten onto base evenly. Transfer to fridge for setting whilst making filling.
5. Clean and dry blender or food processor.
Filling:
1. Add all ingredients to blender or food processor and process for a minute or until texture is creamy. Again, you may need to stop the blender or food processor and scrape the sides down to ensure the ingredients are well combined.
2. Pour filling on top of base and transfer to fridge for setting (about 4 hours) or freezer (1-2 hours)
To serve:
1. Remove from fridge (or if stored in freezer remove 20 mins before serving).
2. Cut into square slices.
3. Arrange pieces of chopped chocolate bar on top of each slice.
Make sure to go say hello to Casey on Instagram (a feed full of beautiful chocolate shots…yessum!) and head to her website to order her delicious chocolate online and/or find your nearest local stockist.
*Photo credits to Tara Pearce and Casey Pringle (cheesecake shots)