Belinda Jeffery
Cook, Author, Presenter
26 01 2016
Belinda Jeffery is my cooking hero and has become a beautiful mentor, despite the fact we have yet to meet in person (we shall soon!). Her warmth, authenticity and generosity of spirit is palpable even through the screens of social media, and you can't help but want to reach out and give her a big, great hug. I know I do!
She's the author of too many award-winning cookbooks to count (my personal favourite 'Mix and Bake' is a MUST for any baker!), and she regularly contributes to print magazines such as Delicious and the like. She also adds chef, cafe proprietor, TV food presenter, radio personality and cooking teacher to her big bag of talents. Yep, you may recognise Belinda from her telly days as the cook on 'Better Homes and Gardens'.
She is one powerhouse lady, but yet remains humble and dedicated to the simple acts of cooking hearty, wholesome food and sharing it with others.
Please outstretch a hand (or basket of figs?!) to Belinda and say hello…oh and make sure to try her to-die-for 'Blueberry Crumble Cake' recipe below, it's on my 'to bake' list for this weekend!

1. Tell us a little about yourself and how you spend your days?
I grew up on the northern beaches of Sydney, so I'm a bit of a surfie chick at heart! Much of my childhood was spent in, on and around the sea, and I find it hard to be far from it for too long. I swim most days in summer, and in winter we take long walks on the beach – for me, there is just something about the ocean that restores body and spirit like nothing else.
My love of cooking began with my mum. She was a really good home cook – nothing fancy, but food that was always fresh and full of flavour – and remember as a little girl insisting that I 'help' her cook. There was just something about the whole process that I loved. I would stand on a stool beside her, and make my version of whatever it was she was cooking. Thank heavens she was incredibly patient, as I'm sure everything took twice as long when I insisted on taking part!
In my teens, mum went to cooking classes, which at that time was quite an unusual thing to do, and for us it opened up a world of food that we had never experienced before, and which was truly wonderful. However, that said, it was never just about cooking; from ever since I can remember there were always lots of people sharing our table. Our friends were always welcome, and somehow mum seemed to effortlessly cope with this.  I think for me that was the final hook, for I not only loved cooking, but I loved the way it brought people together to talk and laugh and tell stories, and to this day, there is nothing I would rather do than break bread around a table with friends and loved ones.
How my days are spent…
How my day pans out depends on where I'm at in my cycle of writing, photographing and teaching. I must admit, I do love the times when I have quiet days of cooking and fiddling about with recipes. I usually cook in the mornings, then in the afternoon try and decipher the zillions of notes I have made!
When we're shooting a book, for weeks on end our rather small house is turned upside down into a studio. Rodney Weidland, my dear friend and photographer, stays with us and the two of us muddle along in our rather eccentric way until the book is done. There are trestles and tables piled with props everywhere (including our dining table so all three of us are forced to huddle at one end to eat!). Backgrounds lean against doors, cameras and lens get lost and found constantly, and I cook…a lot! My very patient husband helps out with the mountains of washing up that ensues, and also learns to deal with a fridge full of food with stickers on it saying 'don't eat this, or I might have to kill you!'.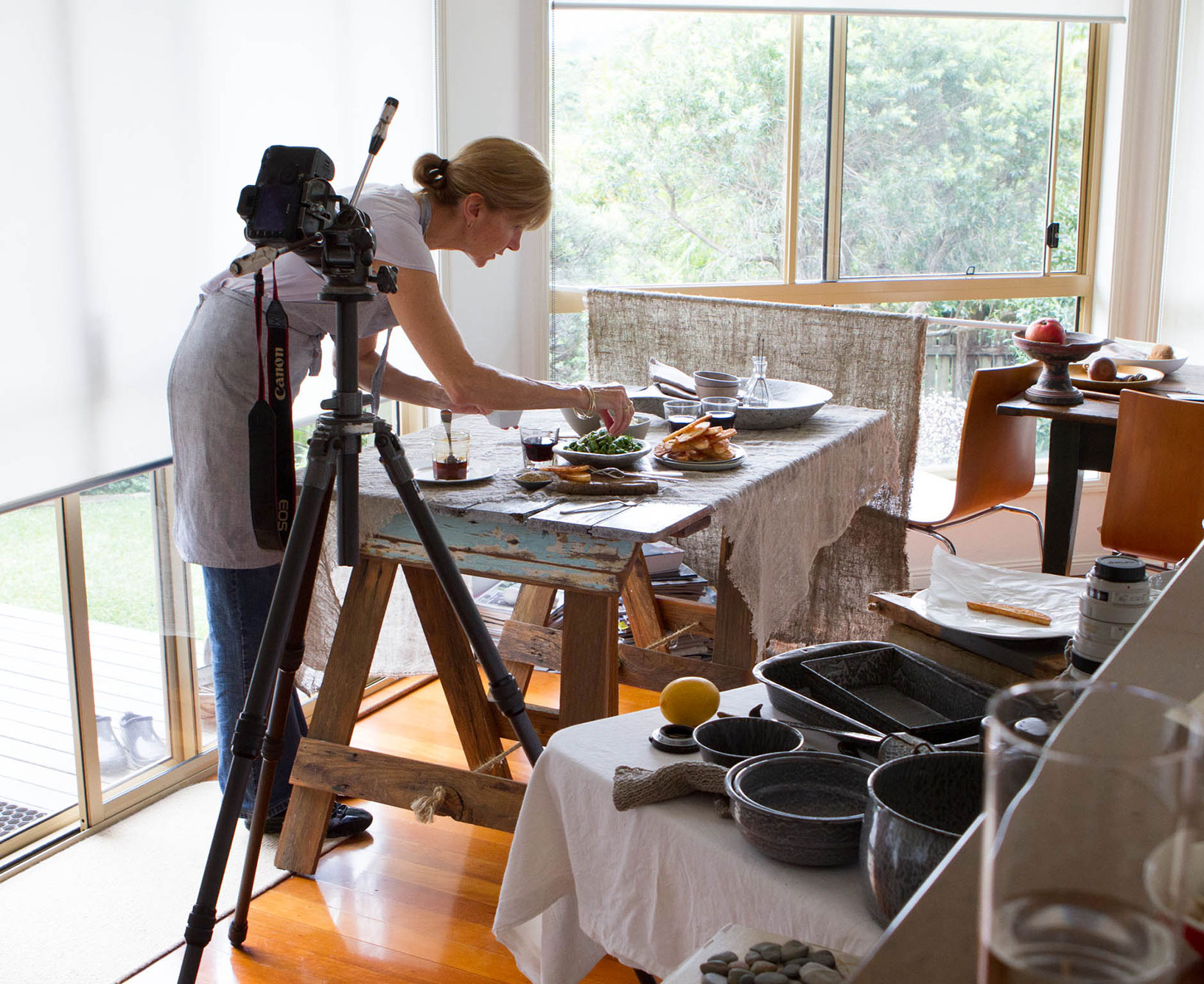 Teaching is a totally different kettle of fish. More often than not, I teach away from home, so I can be travelling, working out the ins and outs of a kitchen I've never cooked in before, meeting new people, and discovering different produce. It's the other side of the coin to the more solitary work of writing.
2. What inspired you to start making a living from cooking? How did your first cookbook come about?
From when I was very young I would say to my mum that "When I grow up, I'm going to be a 'cooka' in the kitchen". I can't remember a time of not having this thought, so it was no surprise to anyone when in my early twenties I started working in restaurants.
My first cookbook came about when I had just finished doing six years on television as the Better Homes & Gardens cooking presenter. Even prior to deciding to leave television, Rodney and I had discussed working on a book, as we loved working together and it was something that was close to both our hearts, so when I did finally leave – and knowing I wouldn't find the transition easy – it was a natural thing to do.
In fact, we were both absolutely clueless when it came to publishing, and went about it all the wrong way, so it was more by luck than judgement that my first book was taken up by my wonderful publisher of many years now, Julie Gibbs. I had basically written the book, and we had shot it, without really thinking if anybody may be interested! Thank goodness Julie was!
3. Who/what inspires your love of seasonal cooking and/or where do you look for inspiration with every successive book?
For the last 14 years we have lived on the beautiful far north coast of NSW and have access all year around to fantastic local produce. We are blessed to have four farmers markets a week within 20 minutes drive of home, and each week I find myself at one, two, or even three of those markets. I love everything about them – the just-picked beauty and vivid flavours of the produce, and the wonderful farmers, cheesemakers, butchers, artisan bakers, pasta makers, and cooks, who are there every week come rain or shine with a welcoming smile, a story, a recipe, a laugh to be had, and, more often than not, a treat to be tasted.
We have known many of these hardworking people for years now, and I respect them so much, and I'm always inspired by what they do. With all of this, I have a constant cauldron of ideas bubbling away in my head!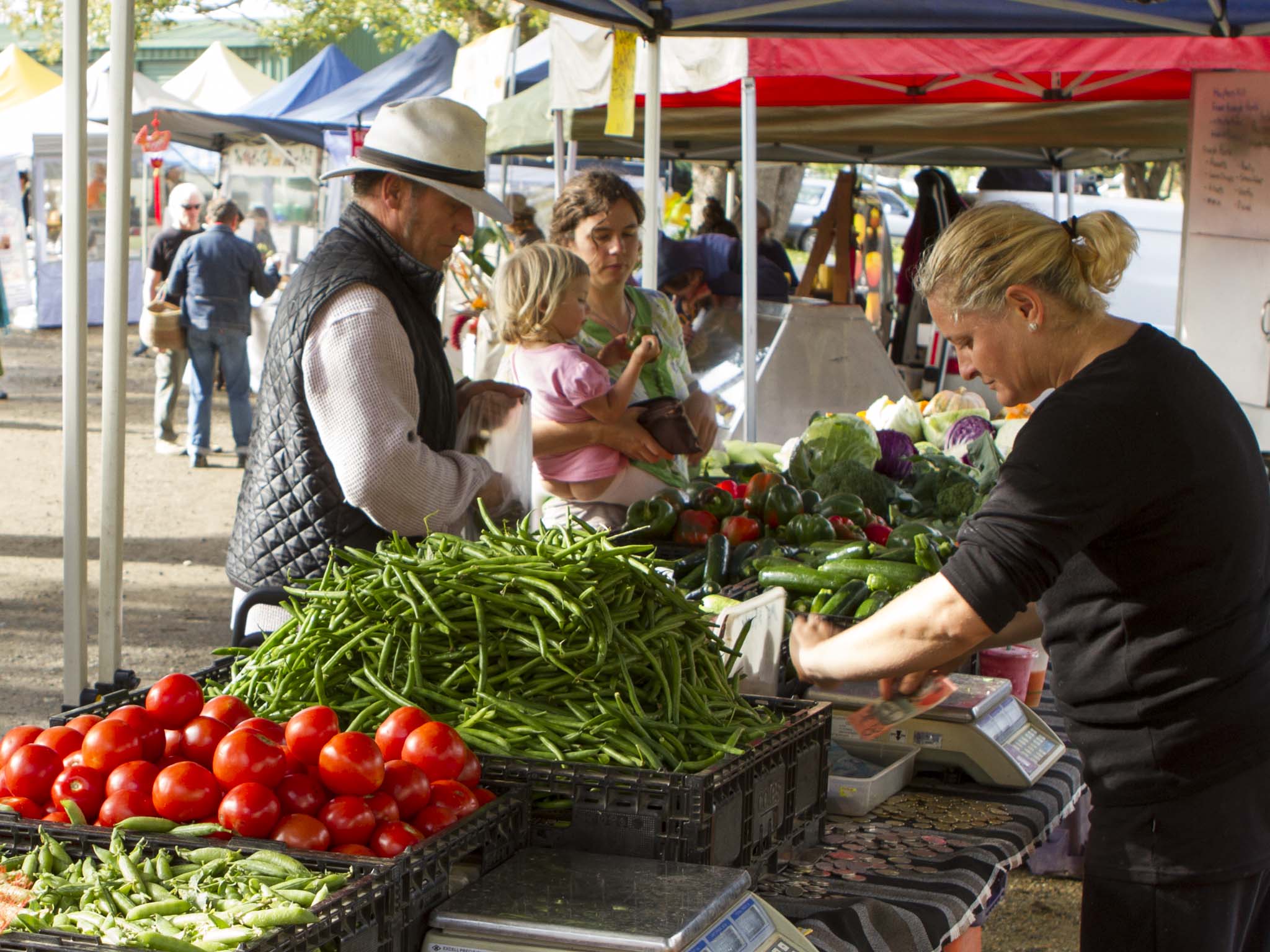 4. Current food or ingredient 'love'?
I'm afraid I'm rather fickle, as my current ingredient 'love' is a constantly changing thing depending on whatever happens to be in season. Right now, I can't get enough mangoes, white nectarines, and beautiful jammy little green figs. I find I use lots of harissa at present, and tarragon (always tarragon) as it grows like a weed here.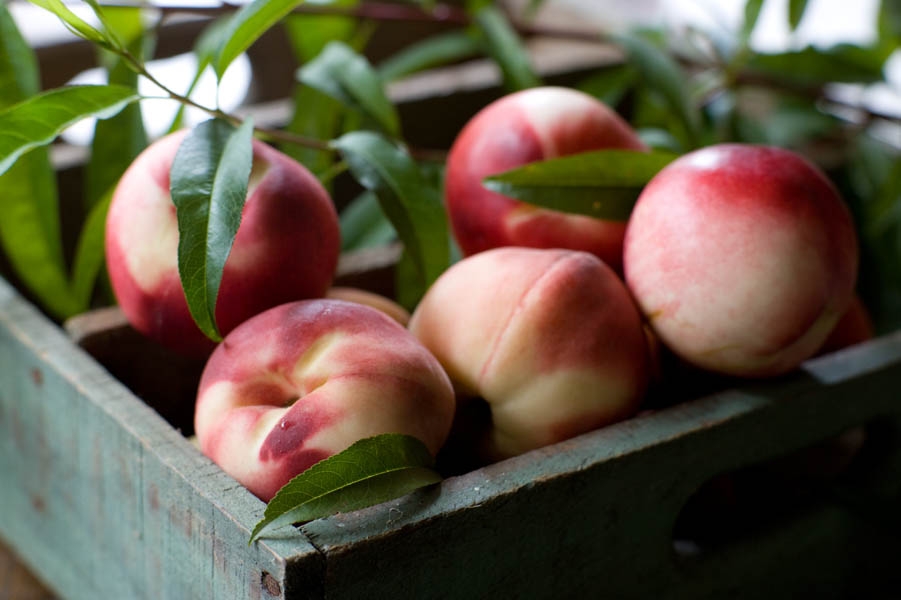 5. Do you have a special recipe you can share with us? What is the story behind it?
I'm descended from a long line of home bakers and dessert makers. My strongest memories are of my mum enveloped in a cloud of flour, as she whipped up a cake or batch of biscuits to refill our rather battered old aluminium cake tin.
Actually, this tin seemed magical to me as it was never empty – just as that last morsel of cake was removed, another would appear! The cakes weren't fancy, more often than not there would be a simple buttery teacake topped with sliced apples and cinnamon, or a pound cake studded with mulberries we had picked from the tree down the road. And these are the cakes that I love to this day, their warm cinnamon-y fragrance immediately takes me back to my childhood and special times baking with my mum.
This leads me to my Blueberry Crumble 'Cake'.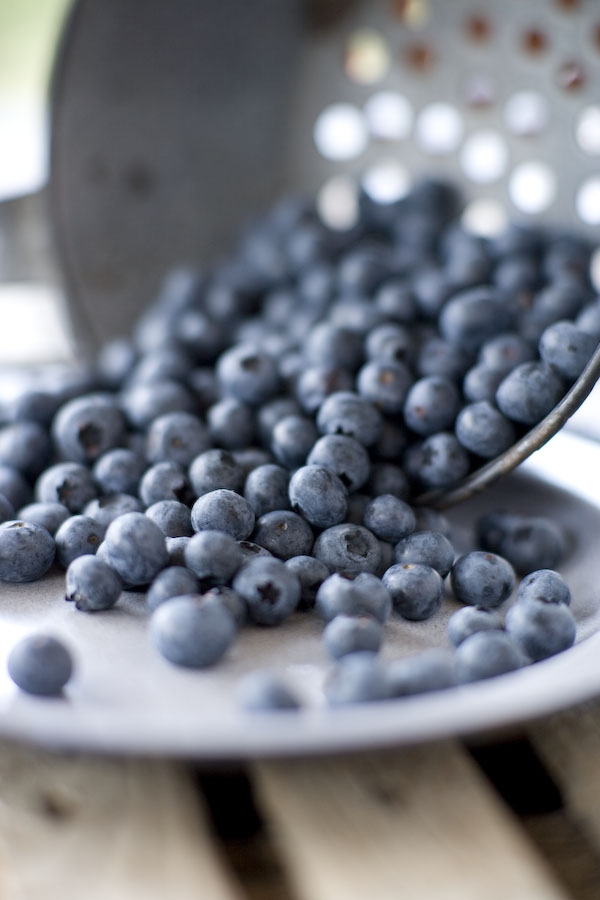 I must admit that I'm not too sure whether I should be calling this recipe a pudding, a cake, or a slice, as it pretty much fits into all three categories! Maybe I should just say that it's very scrumptious and works equally well as a dessert, or as something to have with a cup of tea or coffee. It's a lovely combination of gently spicy cake, slightly sharp berries, and the crunchy topping is completely irresistible.
It's a straightforward cake, homely and comforting in all the best possible ways, and although I've made it with other berries (blackberries are very good too) I feel it's at its best when it's full to bursting with these dusky blueberries.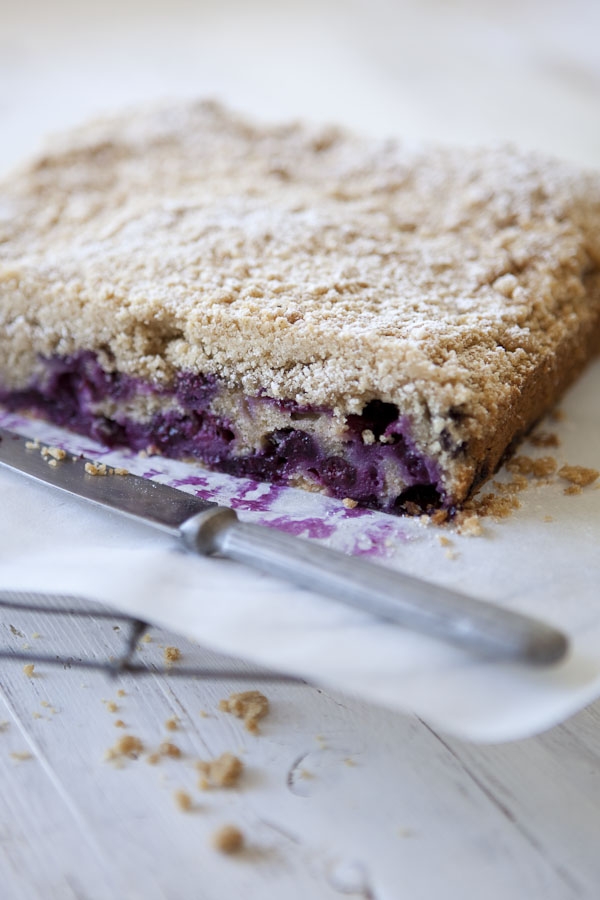 Blueberry Crumble 'Cake'

Serves 6-8.

240g plain flour
½ cup (120g) caster sugar
1 teaspoon baking powder
¼ teaspoon bicarbonate of soda
¼ teaspoon salt
1 teaspoon ground cinnamon
½ teaspoon freshly grated nutmeg
100g cold unsalted butter, in small (approx. 1cm) chunks
1 tablespoon caster sugar, extra
20g cold unsalted butter, extra, in tiny cubes,
1 extra-large egg (about 70g)
½ cup (125ml) sour cream
1 teaspoon vanilla extract
250g blueberries (fresh or frozen)
Icing sugar, for dusting
Softly whipped cream, thick Greek-style yoghurt, or good quality vanilla bean ice cream, to serve
Method
Preheat your oven to 175C. Butter a 20cm square cake tin, line the base with buttered baking paper, then dust the tin with flour. Set the tin aside.
Tip the flour, caster sugar, baking powder, bicarbonate of soda, salt, cinnamon and nutmeg into the bowl of a food processor fitted with a steel blade. Whiz them together for 15 seconds until they're thoroughly combined. Now add the butter, and pulse it in until the mixture resembles fine-ish breadcrumbs.
Scoop 1½ cups of the crumb mixture into a bowl (this is for the crumble topping). Stir the extra tablespoon of caster sugar into this, then scatter the extra 20g of cold butter over the top and use your fingers to lightly rub it into the flour mixture. What you're after is a mixture of big and little crumbs. When it's done, cover the crumble and pop it in the fridge.
In a medium-sized bowl, beat the egg lightly, then add the sour cream and vanilla and whisk until they're well combined. Tip the flour mixture left in the processor into the egg mixture, and stir them together. Now, gently but thoroughly mix in the blueberries – the batter will be quite stiff. Spoon the batter into the prepared tin, then carefully spread it out as best you can, trying not to squash the berries – it's a bit awkward to do this as the batter is thick, but it does spread, promise! Sprinkle the crumble mixture evenly over the top, then shake the tin gently to settle it.
Pop the tin in the oven and bake the cake for 55-60 minutes, or until the top is pale golden and a fine skewer inserted in the centre comes out clean. It puffs up a bit, but sinks as it cools.
When the cake is ready, transfer it to a wire rack and leave it to cool in the tin. After 20 minutes carefully run a fine palette knife, or blunt knife, around the sides of the tin to loosen the cake. Lay a sheet of greaseproof paper over the tin (this helps stop damaging the top when you flip the cake over) then sit a flat plate on top of this. Carefully invert the cake, then gently remove the tin and lining paper. Now sit a serving plate on the cake and invert it again so the cake is crumble-side up (the first time I did this I flipped it a little too enthusiastically and ended up with crumble mixture all over the kitchen, so I've learned to be a bit more circumspect now!).
Although you could eat the cake straight away as a pudding, I think the flavour is best when it's barely warm or at room temperature. When you're ready to serve it, just dust the top lightly with icing sugar and serve it with softly whipped cream or vanilla bean ice cream.
P.S. This is probably best eaten on the day it's made, however on the odd occasion I've had leftover cake, I've stored it in the fridge and brought it back to room temperature or warmed it gently to eat the following day, and it was still very good, if a bit firmer – it actually freezes well for a few weeks too.
Have a peak at all of Belinda's books and read more about journey here.