Sour Cherry and Coconut Breakfast Bars
Categories: breakfast, brunch, baked
13 08 2015
So breakfast is a favourite meal… (anyone else?) and I like to take it slow and enjoy a hearty meal and cup of coffee/tea, as much as possible in the mornings, but sometimes that ain't possible.
Hence the need for a satisfying, fast, portable breakfast idea that is filling, wholesome and easy to make ahead of time. These breakfast bars are just perfect for those occasions, but of course also make for a tasty lunchbox addition, for any time of day!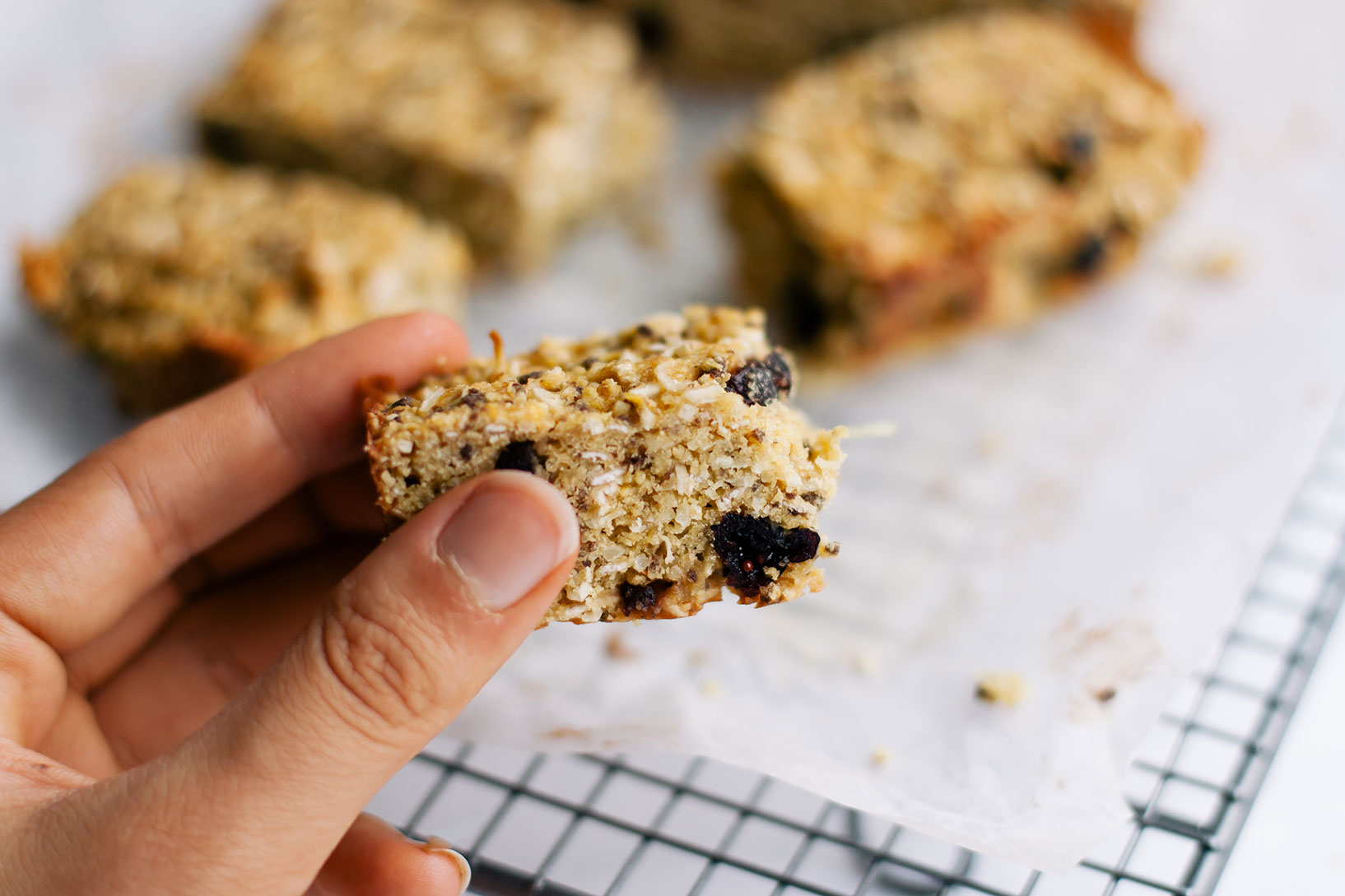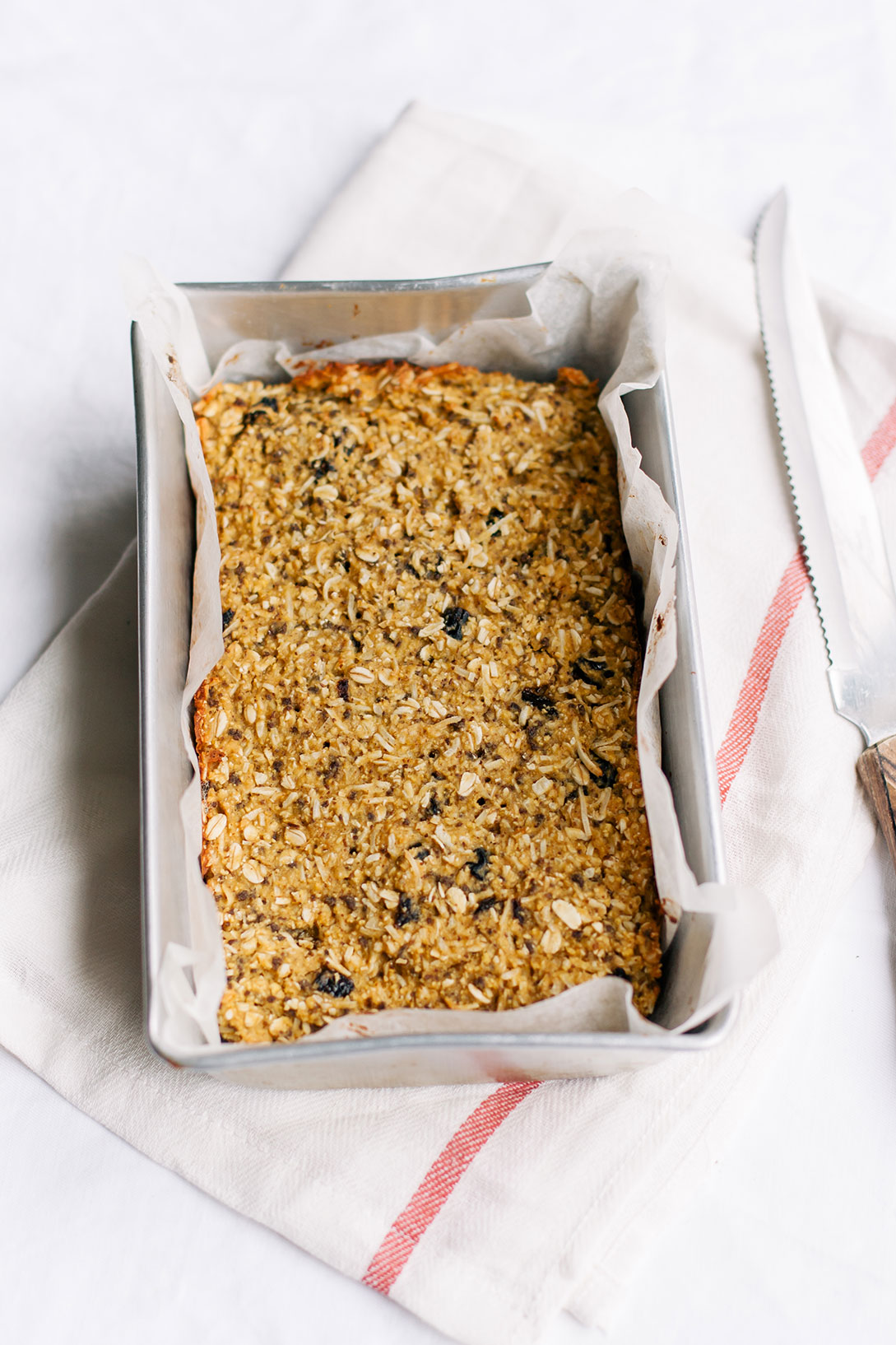 Generally, I'm not really into using too many 'superfoody' flours and ingredients in my cooking as these products are most often expensive, not readily available to everyone and not worth the hype.
Lupin flour, however, blew my little nutritionist socks off, and one of my Masters lecturers confirmed that this humble legume does in fact pack a punch.
To illustrate the point, I'm going to get all 'numbers' on your for a brief moment, bare with me. I did a little math (not my strong point) and figured out that claims of lupin products being high in fibre and protein are in fact true! 100g of lupin flour contains 39 g of protein and 31 g of fibre, which means nothing really… BUT if we compare this to say BUCKWHEAT flour with only 12 g of protein and 11 g of fibre, the numbers speak for themselves. In fact the lupin flour has MORE protein per 100g than a rump steak (around 31 g). Pretty spiffy hey? No wonder these bars are so damn filling!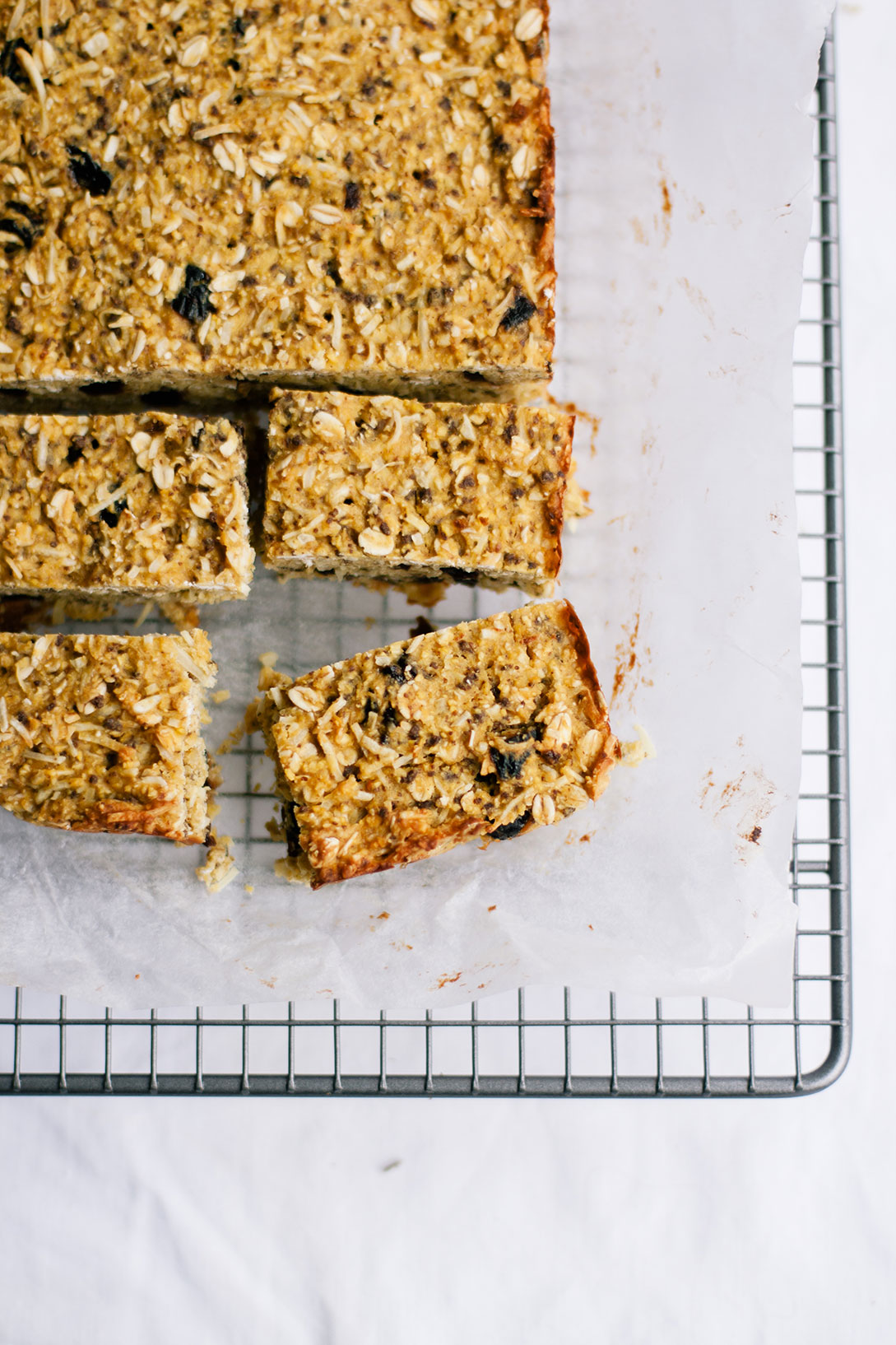 Lupin, being a legume, is also naturally gluten-free, but it is also worth keeping in mind that it can produce some not-so-nice after effects (if you get drift…or rather wind! Ha!) in sensitive people (like me!), thus the flour can easily be substituted with oat or spelt flour.
If you're keen to try out lupin for yourself, you may have to trek to your nearest health food store or specialty grocer to find it at this stage. There are also a few companies like Lupin Foods that list nearest stockists and even sell online.
Sour Cherry and Coconut Breakfast Bars
Makes 8-12 bars (depending on how big you cut them)
1 cup lupin flour (or spelt or oat flour)
1.25 cups rolled oats
3/4 cup shredded coconut
1/2 cup LSA (a mix of just flaxseed meal and almond meal also works)
1 tsp gluten-free baking powder
1 large egg, beaten
200 ml milk (of your choice)
1/4 – 1/3 cup maple syrup (or sweetener of choice)
1/2 cup sour cherries (can replace with a mix of any dried fruit and/or chopped dark chocolate)
Method
Preheat oven to 180 C.
Grease and line a slice tin with baking paper (if you have a larger tin like me 18 x 28 cm – the mixture will simply not fill all of the pan and that's okay.)
Place lupin flour, oats, LSA, baking powder and sour cherries into a bowl and mix to combine.
In a separate bowl whisk together the wet ingredients (egg, milk, maple syrup).
Combine wet ingredients with the dry, and gently mix until thoroughly combined. Mixture may seem thick and sticky but should not be dry.
Scrap batter into the lined tin and smooth out evenly.
Place into preheated oven and cook for 25-30 minutes. Keep an eye on it as this slice tends to cook fast! A skewer inserted into centre should remove clean when done.
Allow to cool completely, before cutting into slices. Store in an airtight container.
Notes
Sour cherries are not very sweet at all (hence the name!) so you may want to add a little extra sweetener or substitute for other dried fruits (dried cranberries, figs or mulberries work well too!).
In fact, a little chopped dark chocolate takes the bars to a whole new level – hello chocolate for breakfast!