Sage and Seasonal (JULY): CARROTS
Categories: dinner, sides
07 08 2015
This post marks the very first in a new monthly 'Sage and Seasonal' column on the TAS blog. We've joined forces with uber talented green thumb and all-round vegetable enthusiast, Natasha Grogan from The Sage Garden, to bring you a monthly feature on a particular fruit or vegetable that happens to be in season. Natasha will be giving us some tips on how you can grow it (irrespective of your gardening prowess- or if you're like me, definite lack of!) and I will be cooking up something tasty with it, because fruits and vegies ain't got to be boring. It's our little way of keeping the focus on eating and shopping seasonally, whilst learning a thing or two about how to grow our own food.
Our seasonal feature for July, is none other than the humble CARROT, much more than just 'rabbit food', this staple vegetable has been featuring on plates of meat and three veg for, well, eternity, but it has loads more personality and deliciousness to offer, we promise. Just look at these perfectly imperfect cuties cuddling up!
How to grow them?
The humble carrot is up for discussion with any gardener. Filling Instagram feeds with weird and wonderful shapes and sizes, carrots sure have a knack for catching our attention. In my opinion, nothing beats the taste of a homegrown carrot but they do have the reputation for being tricky. One of the biggest things going for the carrot is that they be harvested all year and have a good yield for a small amount of space. So I'm going to hand out a little advice to help you on your carrot growing way.
Normally, I'm a give-it-a-go gardener. I don't follow too many hard and fast rules however, over the years I have learned carrots are little fussy and know what they like. You have to find a sunny site with deep, well-drained fine soil. I'm talking fluffy soil you can dig your hands into. I will often mix sand, organic compost and mulch into the existing soil to create the perfect profile. In the end you want to be able to push your trowel into the soil 15cm without any resistance. Be careful not to add too much compost and manure as it can result in crazy shaped carrots. If you have just added these wait a little for it to settle.
Don't buy your carrots as seedlings. They are painful to plant out and they don't love being transplanted. Sow your carrots from seed. There are fantastic varieties available at all local nurseries, heirloom yellow, purple, white, round balls and of course the classic Bugs Bunny (they're not called that). I find the best way sow the seed is to make little rows, not too deep, and then sprinkle the seeds along the rows and cover with a little soil. Once the carrots have germinated and the stalks are around 7cm tall, you can thin out the seedlings so that each carrot has enough room to grow. A good rule of thumb is to use your thumb, one thumb between each seedling (can you use the word thumb too many times in a sentence?)
I'm a fan of incorporating companion planting where I can. If you're keen to give it a go, carrots like to be planted with sage, lettuce, chives, peas, pansies, and rosemary. I have read that if you interplant with leeks you will have crunchy, and brightly coloured carrots, I don't know about this but I'm giving it a go this season. I'll keep you posted…or you keep me posted.
The key to growing a bumper crop is to make sure you water regularly. This has been my downfall in the past as I'm a stingy waterer, but it will pay off. Weed and mulch around the emerging stalks and your carrots pretty much look after themselves from there. They are usually pest and disease free. Keep your eyes out for slugs and snails but other than that you shouldn't have any real problems unless like me you have little hands that like to pull them out to see if they are ready.
Your carrots will let you know when they are ready when they pop their little bums out of the soil. I will have a little dig around them to see if they are looking good and if I want to try for bigger I build a little more soil around them. When it is go time simply pull out. Carrots are also an annual, which means they are a one hit wonder. One seed. One carrot. Give your carrots a wash, give yourself a pat on the back and enjoy.
Words by Natasha Grogan of The Sage Garden
How to cook them?
We all know that if you want to make a vegetable taste amazing you douse it in oil, add some seasoning and chuck it in a hot oven. Mmmm roasted vegetables, the ultimate comfort food.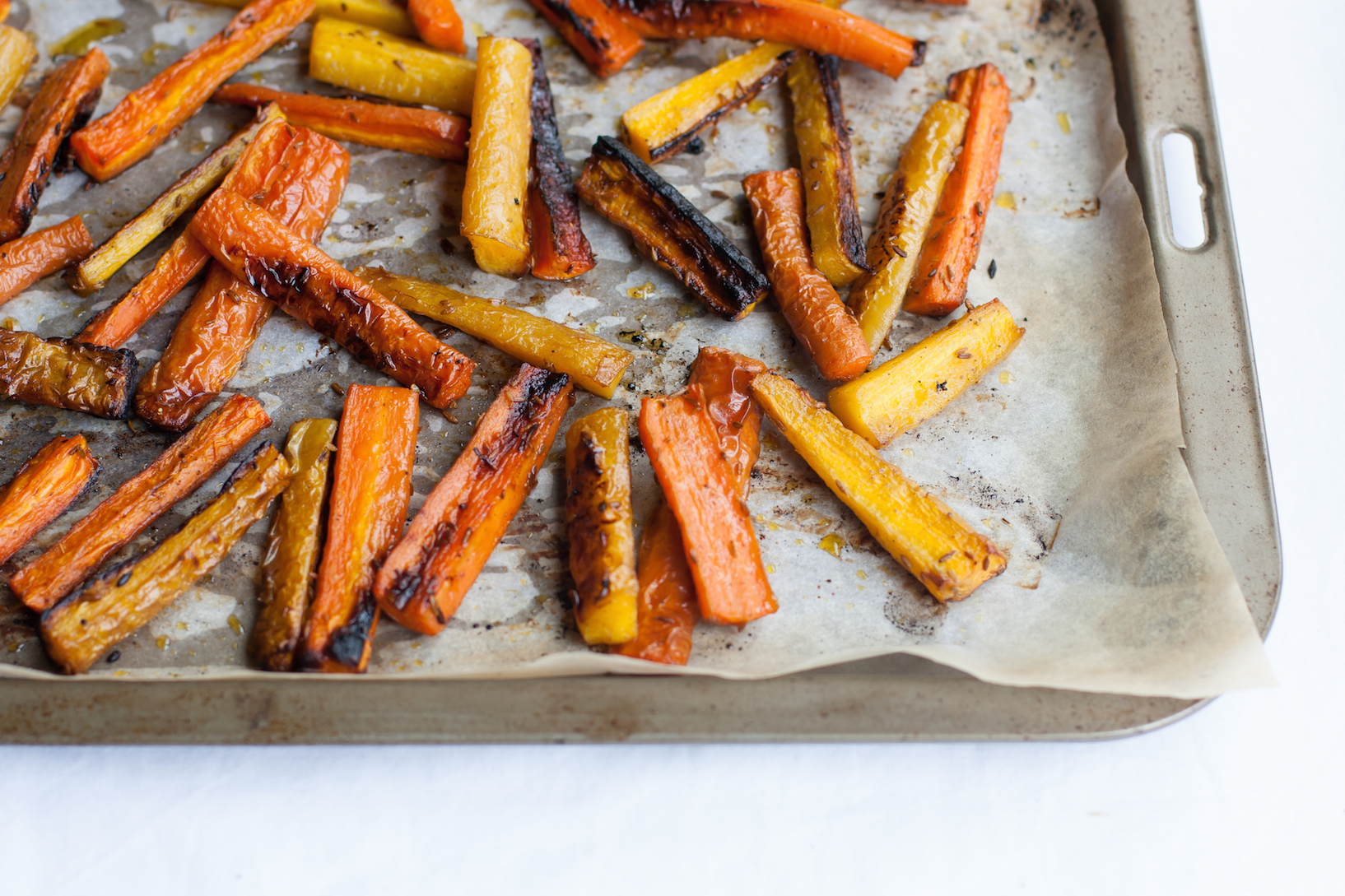 Carrots, in particular taste amazing roasted, becoming deliciously sweet and tender with a crispy caramelised exterior. In this recipe, I've pimped the carrots with a bit of spice, some maple syrup and served with an Ottolenghi style tahini yoghurt sauce – be warned the sauce is freaking addictive!
I promise you'll be coming back for seconds…or thirds, and I'm not just saying that because I happen to be a bit of carrot fanatic (evidenced by my slightly orange palms which everyone feels the need to point out. Ha!).
Get funky with the colours too – your local grocer might stock some of the brilliant purple or yellow heirloom varieties, which are mighty delicious too.
For those in Melbourne, we get the produce for these columns from lovely northside grocer, Wild Things Food, who stock an array of beautiful fresh produce and have cost effective weekly seasonal fruit and vegetable boxes available too. They are also responsible for providing me with the most beautiful Tasmanian black garlic, grown in the Huon Valley, which is just divine. The garlic is fermented and becomes soft and sweet, with a generally much milder taste and smell than normal garlic. A win for those of us that garlic does not tend to agree with!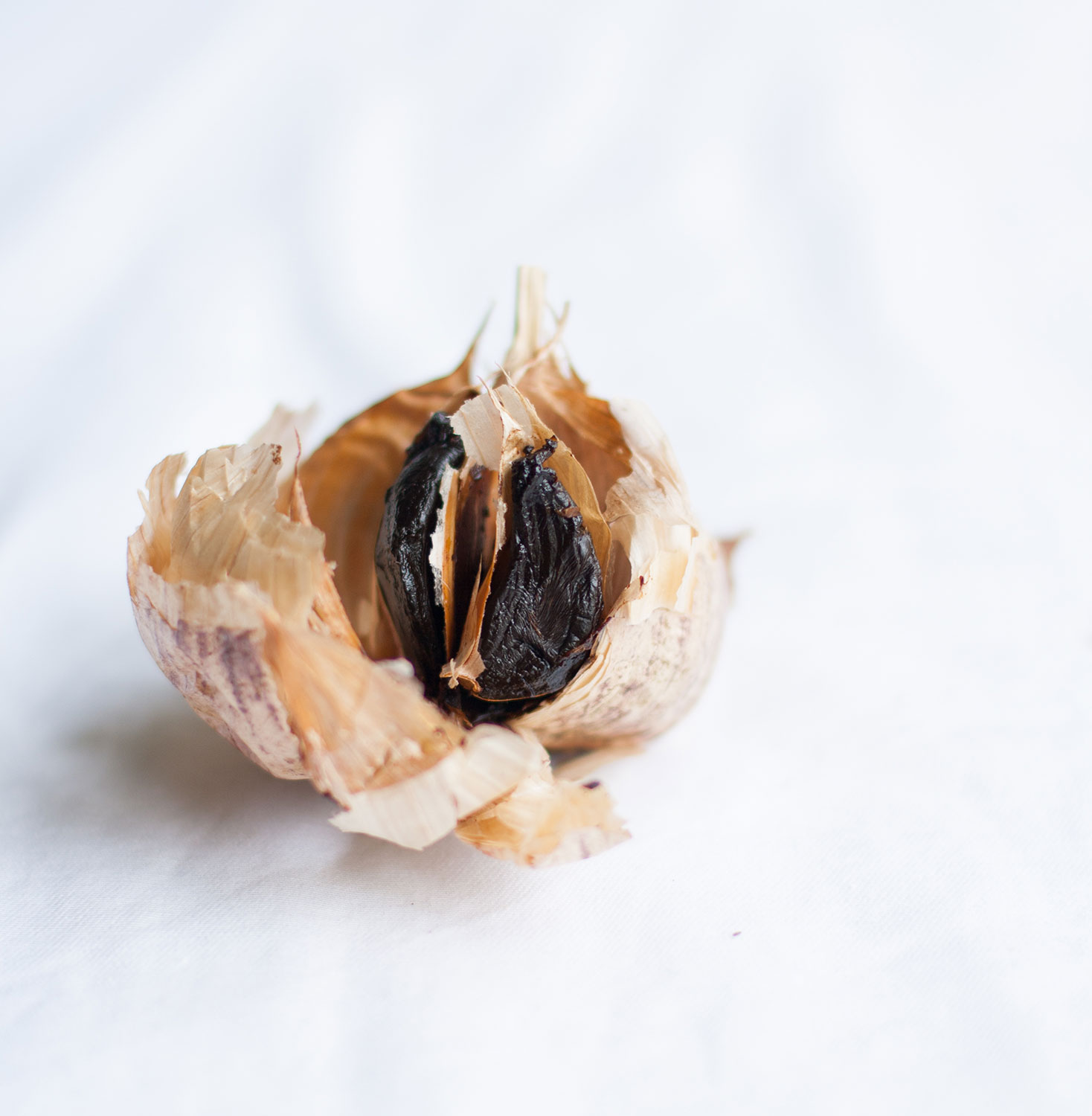 So let me hear your suggestions? How do you like to eat your carrots? Other than carrot cake….although nothing beats a good carrot cake!
Until next month…
Cumin roasted carrots with tahini yoghurt sauce and pepitas
Serves 4-6 (as a side).
For the carrots
500-600 g carrots (approx. 5-6 large ones)
1 tbs maple syrup
1 tsp cumin seeds, toasted
2 tbs olive oil
For the tahini yoghurt
1 garlic clove, crushed (we used fermented black garlic)
60 g (or 2 generous tbs) of full fat Greek yoghurt
1 tbs hulled tahini
2 tsp lemon juice
2 tbs pepitas, toasted
Fresh coriander (to serve)
Method
Preheat oven to 220 C.
Wash and dry carrots, then cut into even sized batons.
Toast cumin seeds in a dry saucepan and then bruise seeds slightly with mortar and pestle to release aroma.
Add cumin seeds, maple, olive oil, salt and pepper to the carrots and mix thoroughly.
Place carrots of lined baking tray and place in the preheated oven.
Roast for approximately 30-40 minutes or until carrots are tender, check on them periodically and rotate if needed to prevent them from burning.
Whist the carrots are cooking – prepare the tahini yoghurt sauce.
In a small bowl, gently beat together yoghurt, tahini, lemon juice and crushed garlic with a fork, and season to taste.
Then on low heat, add pepitas to a small frying pan and gently dry toast them, should only take a minute or so, watch them.
Once carrots are cooked and cooled slightly – transfer to a serving dish, sprinkle over toasted pepitas, and drizzle over the tahini sauce or leave to the side. For some extra green, top with a decent handful of fresh coriander.