Pumpkin, Kale and Feta Frittata
Categories: breakfast, brunch, dinner, basics
13 08 2015
If frittata was a person it would be that person everyone wants to be mates with…you know the easy going, no fuss, up-for-anything type?!
Yep, frittata is an all rounder…breakfast, brunch, lunch, dinner…heck have a piece for a midnight snack (no judgment here!), and best of all it can be prepared in advance with whatever veg is lying dormant in the vegetable crisper, saving you from the midnight terrors that can result from the uncertainty of not knowing what your breakfast or lunch is going to look like tomorrow (just me?…oh okay).
Got eggs, milk and maybe some cheese? Then you're good to go.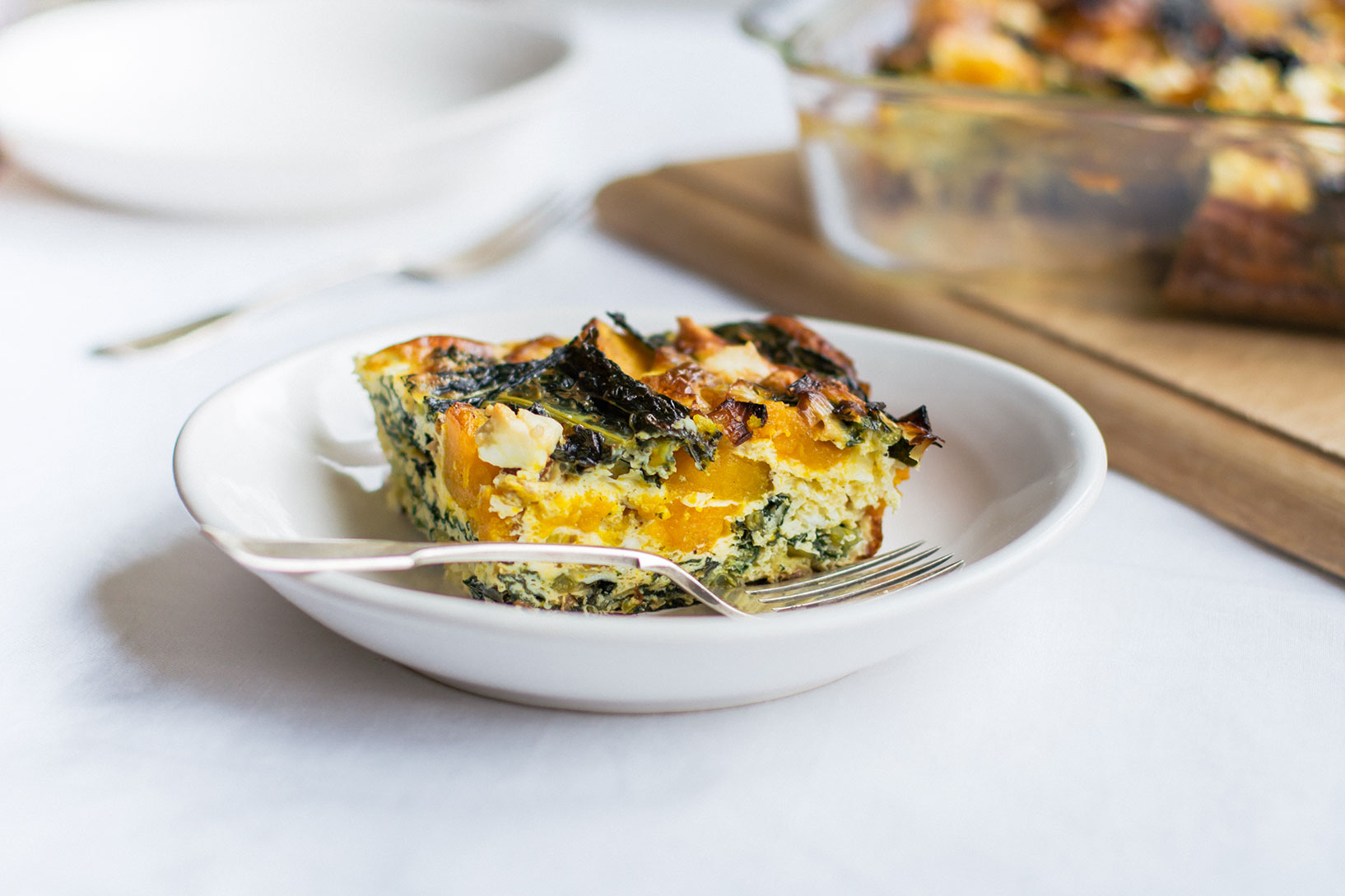 Frittata is an absolute staple in our household. It's the 'can't be stuffed dinner' that actually satisfies. This combination of pumpkin, tuscan Kale and feta works a treat, but to be honest we usually just wing it with whatever veg is looking lonely in fridge, partially sautéing it with garlic and onion, and using the same eggy mixture as the base. Just be mindful of using a balance of starchy and more robust vegetables (like carrots and broccoli) AND more fragile, high water content veg like zucchini and capsicum.
You also have to use your intuition a bit with exact quantities depending on the size of your baking dish, but essentially you want enough eggy mixture to cover majority of your vegetables (when laid evenly on the base of the dish).
Frittata. It's cheap and cheerful and unless your vegan, it should be your new best friend.
What's your favourite frittata combo? Tell me.
Pumpkin, Kale and Feta Frittata
Serves 4-6.
1/2 large butternut pumpkin, peeled, deseeded.
1 generous bunch of Tuscan kale (or cavelo nero)
1 medium leek, white part, diced
60g feta (I used goat's feta)
8-10 large eggs
2/3 cup of milk
1 garlic clove, crushed
Cinnamon, ground
Nutmeg, ground
Olive oil
Salt/pepper
Method
Preheat oven to 220 C.
Cut pumpkin into large even chunks and place in a bowl.
Sprinkle over cinnamon, nutmeg, pepper and salt (to taste). Add 1-2 tbs of olive oil and mix until pumpkin is coated.
Transfer pumpkin to lined baking tray and bake in oven until pumpkin has started to soften (you can stick fork through it), but is not mush (as will cook further later).
While pumpkin is baking, get started on sautéing the kale.
Wash kale and remove any thick, woody stalks.
Gently fry off leeks and crushed garlic in a hot wok/ large frypan with olive oil, before adding in the kale and reducing the heat. Sauté kale until wilted and soft – season to taste.
Allow both kale and pumpkin to cool sufficiently before starting on the egg mixture.
In a medium bowl, beat together 8-10 whole eggs with 2/3 cup of milk. The number of eggs will depend on the size of your dish and amount of vegetables used. For the square Pyrex 20 x 20 cm dish (pictured), we used 9 large eggs.
Grease your oven dish (with oil or butter) and layer the cooked pumpkin and kale on the bottom. Gently pour eggy mixture over vegetables and crumble feta over the top.
Place frittata into oven and bake at 200 degrees until puffed and golden (approx. 30-40 minutes).
Remove from oven and allow it to cool for at least 10 minutes before slicing.
Frittata will keep for around 3 days refrigerated, and makes for a great, easily portable meal or snack.
Notes
You don't not necessarily have to bake the pumpkin (you could par-cook in a pan on the stove), but the roasting of the pumpkin with spices, during baking, adds great flavour.
Also feel free to substitute feta for the cheese of your choosing, we often sprinkle fresh ricotta on top and/or add fine grated Parmesan to the egg mixture.