Fig Brownies
Categories: baked, sweets
20 07 2015
BROWNNNNIESSSSS! Enough said right? Shall we just leave it there…? I think so.
…No, only kidding! We need to gush a little more about the gooey, moist, chocolatey morsels of euphoria, we call brownies. The ultimate in comfort food!
So you can't really go wrong with brownies, they are the most perfect edible greeting card. 'Sorry, I stuffed up'… 'Will you help me move the couch?'…'You're the best'… well you get the picture- suitable for any occasion (or just for everyday specialness!), unless of course your eating partner in crime does not like chocolate?! Are there really people like that out there?! I dare hope not **shudders**. In fact, find yourself a vintage tin and you've got the perfect birthday gift too!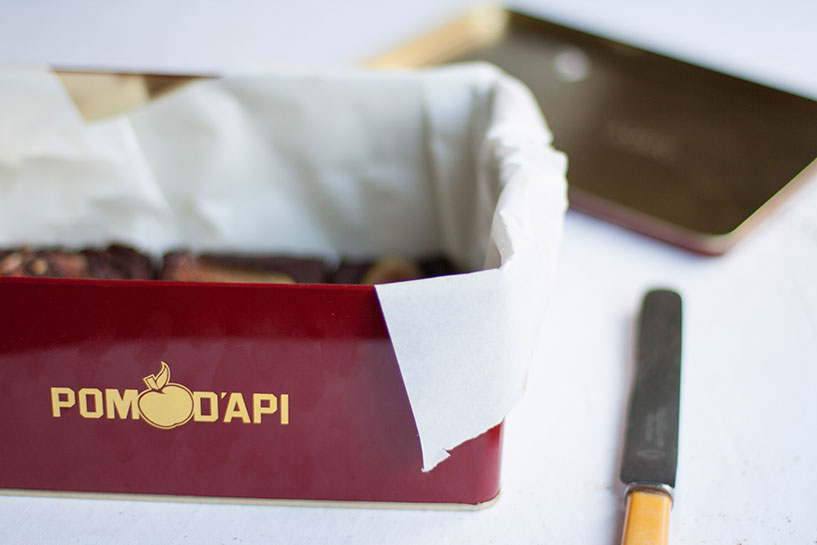 So I'm a big believer of '..if ain't broke don't fix it..' hence why I've adapted the failsafe, rich, gluten-friendly brownie recipe by the talented folk at Sprouted Kitchen, here. I have, of course, pimped it with my favourite ever fruit 'THE FIG' (anyone who follows me knows my deep affection for them) as I am trying to consume as many as humanly possible while they are around. Besides figs + chocolate = heaven, only to be replaced at times by tahini (arghhh tahini… that's a story for another day).
I love the flexibility of this recipe… 'a bake your own adventure of sorts'. Add in nuts or dried fruit, extra choc chopped chocolate OR even coffee to the glossy, dark brownie batter.
The only rule (one I struggle with!) is to NOT overcook them. Remove just before you think they are done. I usually wait a little too long I find, and I fear I am seriously missing out on some oozy chocolate action!
So grab some premium dark chocolate, a heck load of butter and go, go, go!
How do you enjoy your brownies? Do you have a winning recipe you stand by? Or are you chocolate averse…seriously reveal yourself!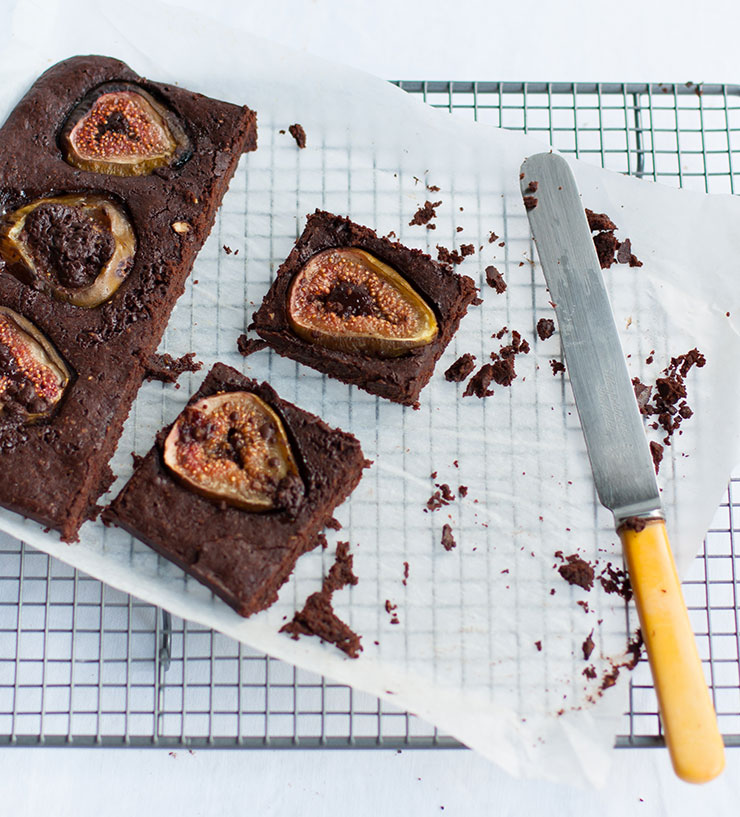 Fig Brownies 
Makes 8-10 brownies.

1/3 cup oat flour (rolled oats blended until fine)
200 g of dark chocolate (at least 70% cocoa content), roughly chopped
100 g unsalted butter
2 eggs
¾ cup coconut OR rapadura sugar
1 tsp vanilla bean powder (or extract)
1 medium lemon, finely grated rind
Pinch salt
3-4 large fresh figs
Optional
1 cup of chopped fruit/nuts (a mix of hazelnuts or pecans and/or with sour cherries or cranberries works fabulously)
Finely chopped chocolate for top (I used Liefje Hazelnut Crunch chocolate)
Method
Preheat oven to 180 C.
Grease and line a small slice tin (approx. 10 x 20 cm or smaller) with baking paper.
In a medium-large saucepan, gently melt butter before adding in chopped dark chocolate and stirring until smooth and glossy.
Remove from heat, and gently stir in vanilla and sugar before beating in eggs one at a time.
Add in the flour, salt and then mix vigorously for at least 1 minute until you have a shiny batter that pulls away from the sides of the pan (don't worry if the batter appears as if it is splitting a little).
Stir in the added nuts/fruit if desired.
Pour mixture into prepared tin and smooth over. Top with slices of fresh fig and extra premium quality chopped dark chocolate.
Bake in the oven for around 25 minutes until the exterior appears cooked and interior almost done (if you like a gooey brownie you certainly want to avoid overbaking!)
Allow brownie to completely cool before lifting out and slicing.
These brownies do keep for a couple of days BUT I promise you they ain't going to last that long, and if they do then I'm 99% sure there's something wrong with you (or them)?!
Adapted from much loved Sprouted Kitchen recipe.
Notes
The smaller your pan, the thicker your brownies will be as the mixture will not really rise much.
I didn't add in any fruit/nuts this time around and the recipe worked fine but you might find your brownies (like mine) are a little flatter (depending on tin size).
Oat flour can be made by simply blending rolled oats until fine.