Beetroot Salad with Candied Walnuts, Feta and Mint
Categories: brunch, sides
24 07 2015
Salad doesn't have to be all leaves and cucumber you know? Yep, move over bland 'garden' varieties, the salad now takes the stage as a meal in itself, for the most part, and as we move into the cooler months who doesn't like the addition of some comforting roast veg and warm toasted nuts?! It makes the humble salad much more seasonally appropriate.
The fail-safe classic combination of beetroot, walnuts and feta in this salad is enough to sway the self-professed salad averse, and makes a deliciously more-ish addition to any share platter feast or as side to some beautiful baked fish or roasted chicken.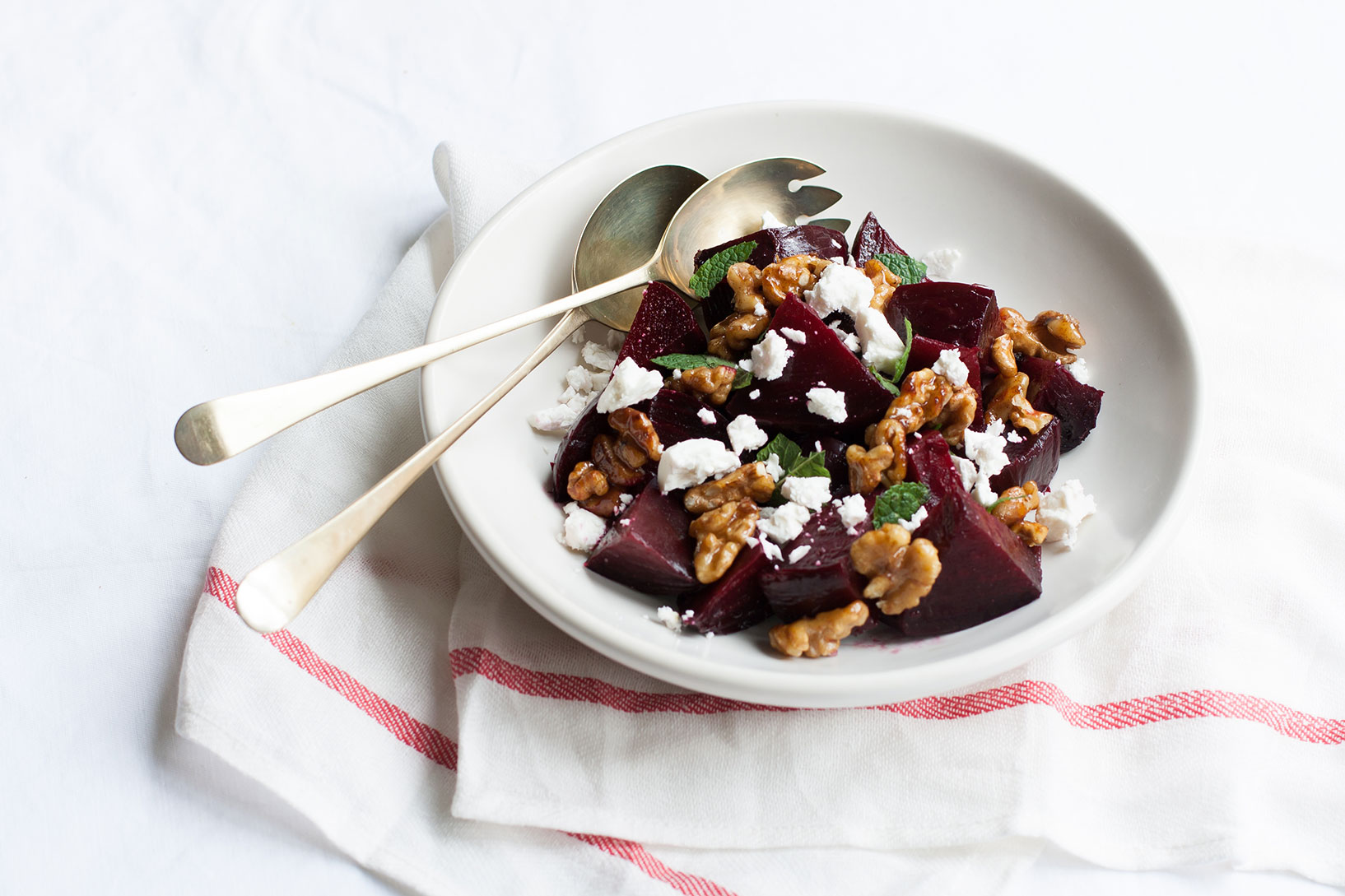 I've also added some sweet and spiced candied walnuts (for that epic crunch factor!), which work extremely well with the earthiness of the beetroot and the pungent goat's cheese, just try not too eat all of the sticky morsels straight from the pan (read: nothing beats warm caramelised nuts!). Or perhaps just make extra so you have a crunchy sweet snack to get you through the week? Smart life decision…tick!
Leftovers of this beetroot salad also make for the perfect mid-week lunch, or if you're in my family you 'reserve' a portion or two aside as 'leftovers' otherwise leftovers do not exist! Ha.
Now, go forth and get some beetroot roasting. You will not regret it.
Oh and a side note: keep an eagle eye on the nuts when caramelising them. They brown quickly once the honey is added…trust me I have burnt too many batches to count and there's no going back! Poor walnuts.
Beetroot Salad with Candied Walnuts, Feta and Mint
Serves 4-6 (as a side)
3 medium beetroots
½ cup of walnut halves
1 tbs of honey
½ tsp of cinnamon
75g of feta or creamy goat's cheese
Olive oil
Course salt/pepper
Fresh mint leaves
Method
For the candied walnuts
Dry roast walnuts in a hot pan for 1-2 mins (tossing regularly), until they begin to turn golden. Add honey and cinnamon and toss again to coat nuts. Allow walnuts to caramelise for another 1-2 minutes in honey mixture (but don't let them mixture burn (easy to do). Remove honeyed nuts from pan and allow them to cool completely. The nuts will harden and become 'candied' as they cool.
(Note: For convenience, prepare walnuts ahead of time- they are best made and eaten within the week. Store in an airtight container.)
For the beetroot
Preheat oven to 250 C.
Wash and dry beetroot, and remove the 'gnarly' bits from the top and bottom of the root. To oven roast, individually wrap each beetroot in foil, and place on baking tray. Bake for 40-50 minutes (checking them regularly) until tender and a fork can be easily inserted into the beet.
Allow beetroot to cool enough to be handled, before gently peeling off the thin outer skin (should be easy to remove once cooked).
(Note: For convenience, prepare beetroot ahead of time and store in a glass container in the refrigerator)
To assemble the salad
Cut roasted beetroot into large, even-sized, chunks and place in bowl. Toss beetroot with generous amounts of olive oil and season with salt/pepper to taste.
Arrange beetroot on serving platter/in bowl and top with crumbled goat's cheese, candied walnuts and torn fresh mint leaves. To avoid a great pink mess, layer the elements, rather than tossing the whole salad before serving.
Leftovers will keep refrigerated for 1-2 days.