Classic Chocolate Cake
Categories: baked, sweets
31 08 2015
Everyone needs at least one go-to chocolate cake in their repertoire, and this one fits the bill for more of an 'everyday' sort of choccy cake, in my books. Not too sickly sweet and dense (like mudcake!), but still rich, chocolate-y and comforting all the same.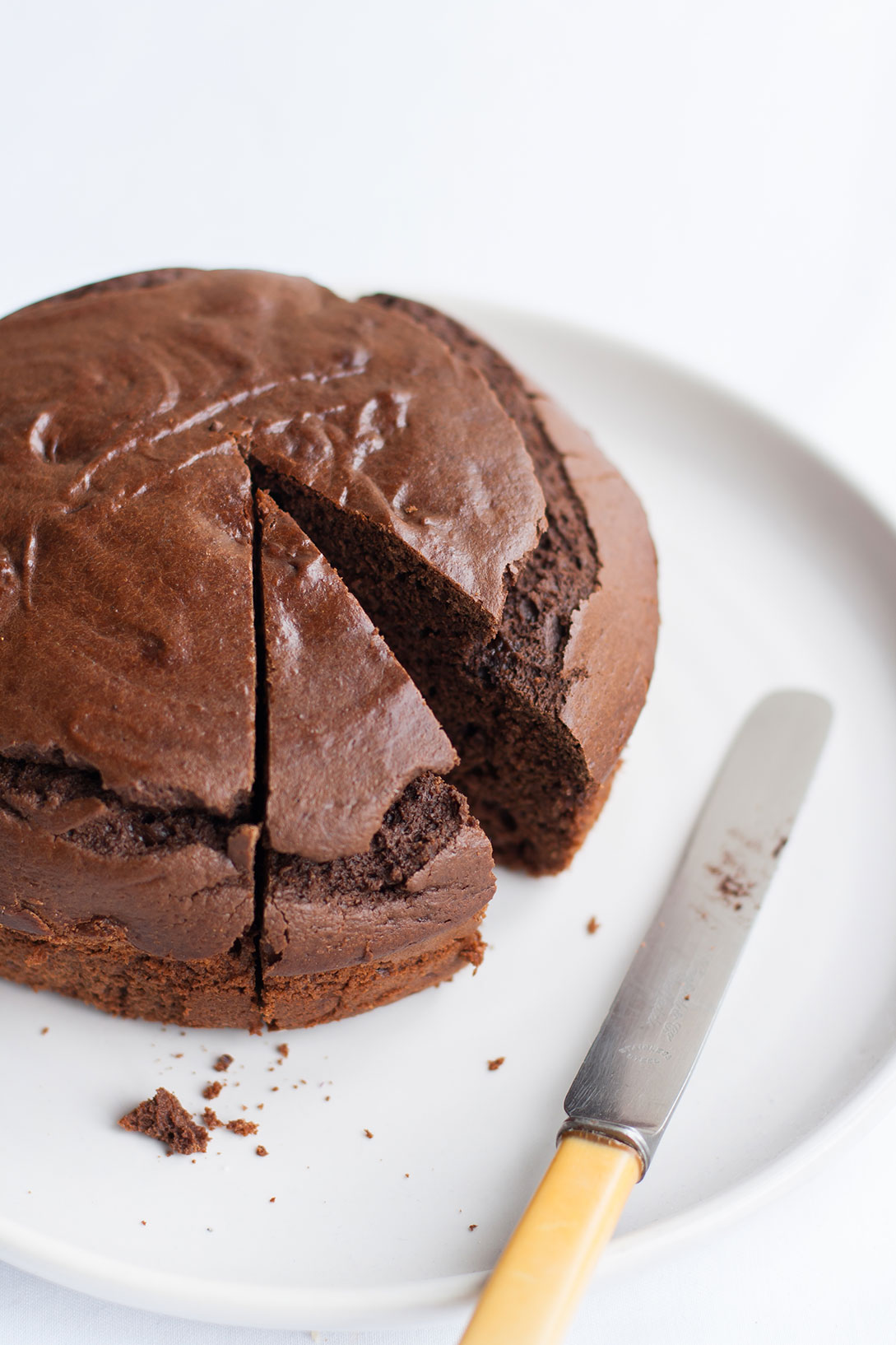 The recipe is based on a Donna Hay cake but we've ditched the butter, switched the flour and lowered the sugar to suit the ingredients we had in the pantry, which most definitely means I'll be eating it for breakfast – it's practically health food now, with all those important polyphenols from the cacao and olive oil…tick, tick.
We definitely do like our chocolate though, so we've tossed in some extra chopped dark chocolate, because there's nothing like cutting into a warm cake speckled with oozy, molten chocolate. Just try stopping at one slice…I dare you.
Of course, there is always the option of topping this baby with a luscious dark chocolate ganache for some extra 'specialness'. The perfect celebration cake to be enjoyed with friends (or alone) – whatever takes your cake!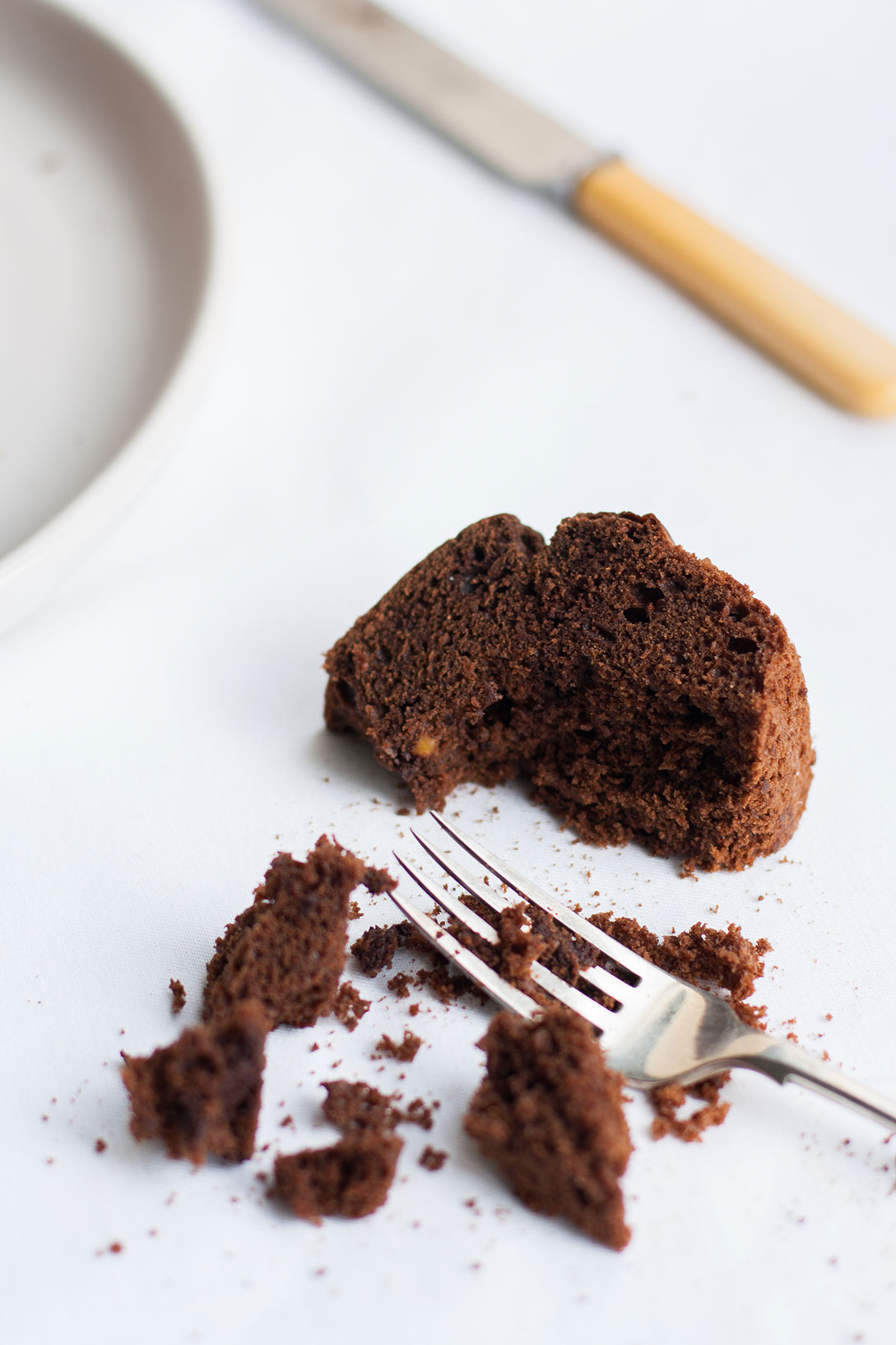 So set the oven, grease your tin and get chocolate cake-ing…because the reward of digging into a warm piece with two bare hands (yep I enjoyed making a mess in this shoot!) is some sort of pure bliss, oh and the perfect sort of procrastination…from you know studying and an assignment to-do list as long as my arm.
I will BAKE my way through this Masters degree I promise you!
Now I want to know? Do you have a go-to chocolate cake recipe?! Feel free to share it with me in the comments.
ps. If make the cake then I would love to see a pic #TASkitch.
Classic Chocolate Cake
Serves 8+
3/4 cup olive oil
1/2-3/4 cup rapadura sugar (or a mix of raw and rapadura)
3 large eggs
3/4 cup milk
2 cups white spelt flour, sifted
2 tsp baking powder
2/3 cup cocoa, sifted
1 tbs maple syrup
50-100g good quality dark chocolate, roughly chopped OR dark chocolate buttons
Butter (for greasing)
Method
Preheat oven to 160 C.
Grease and/or line a 20-22 cm round or springform cake tin.
Place the olive oil and sugar in the bowl of an electric mixer and beat until frothy and combined. Gradually add in the eggs one at a time.
Add the flour, baking powder, cocoa and milk and continue to beat until well combined. Stir in the maple syrup and extra chopped dark chocolate.
Pour cake mixture into prepared tin and smooth surface with palette knife.
Bake for approximately 50 mins and/or until a skewer placed into the centre, removes clean.
Allow cake to cool in the tin before turning out onto a wire rack.
Recipe adapted from the ever-brilliant Donna Hay.