Baked Stone Fruit with Lemon Mascarpone
Categories: sweets
11 01 2016
This recipe came about because of the somewhat summertime struggle of having a fruit bowl full of stone fruit, which are as hard as rocks one day and wrinkly ripe and soft the next. Heck, they would even put the skin on your great grandmother's hands to shame?!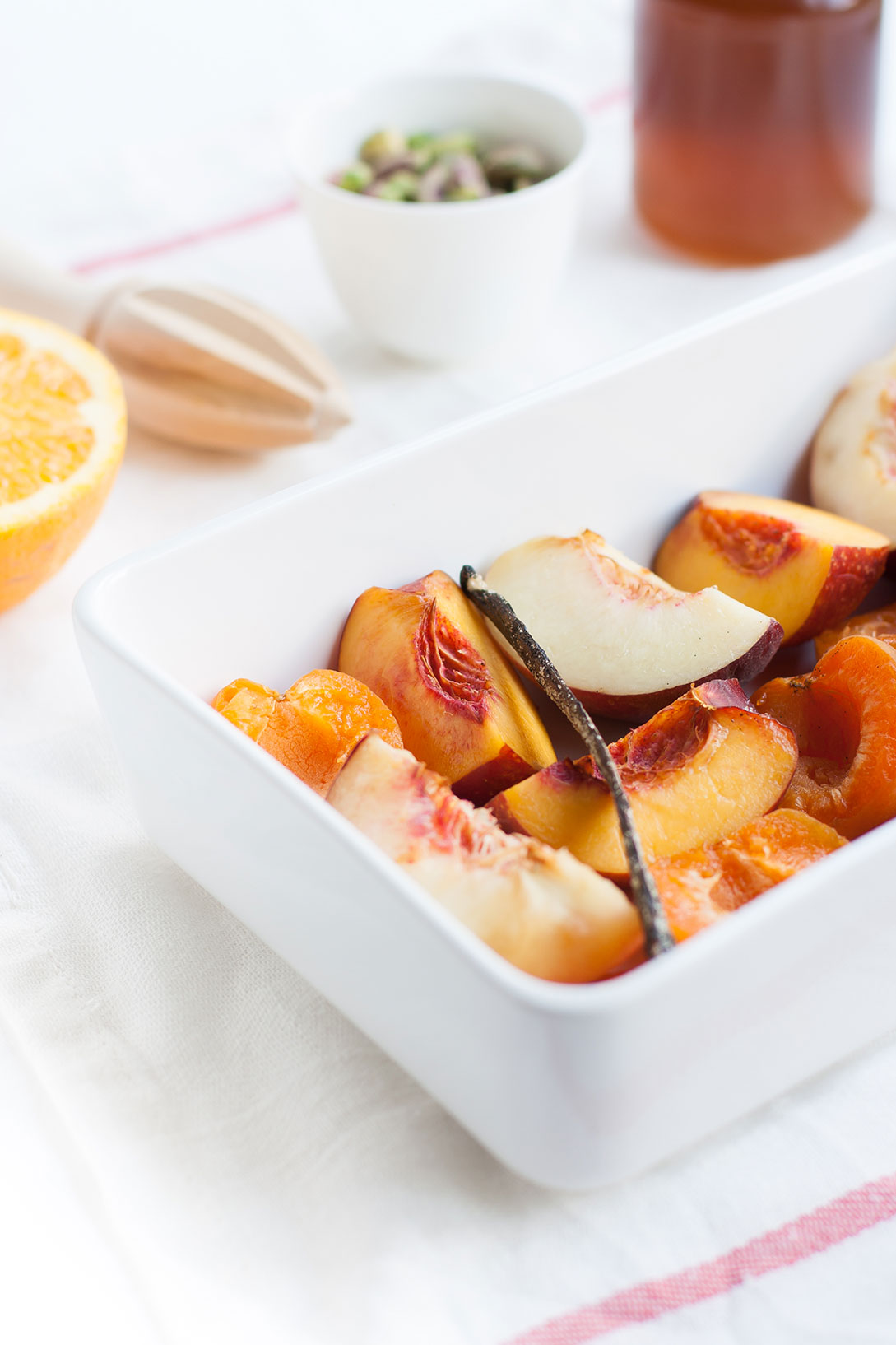 So what do you do? Well you whack them in the oven with a few other simple ingredients to create dessert in a flash. Baked stone fruit for the win!
Yep, the compost bin is saved from having to gobble up decaying fruit bowl victims, and you are feeling chuffed that you've managed to make the simplest dessert look oh so fancy schmancy!
In fact, if you scored yourself a loot of cheap, ripe summer fruit, you could even bulk bake in batches for deliciousness right throughout the week, because who doesn't love leftover sweet caramelised fruit on their pancakes, yoghurt, morning muesli…the list could go on…
…no more drab breakfast bowls or pitiful afternoon snacks!
Of course, you could simply pair the fruit with a natural or vanilla bean flavoured Greek yogurt, but I got way too excited about the fact that I had Pepe Saya mascarpone in my fridge (I was gifted it to try!) and this, in combination with the fact that I have just traded a friend for a loot of backyard lemons (cue lemon curd making frenzy!), means lemon mascarpone = no brainer.
Also, I felt the sweet, syrupy fruit needed a little bit of a zesty travel companion, you know?!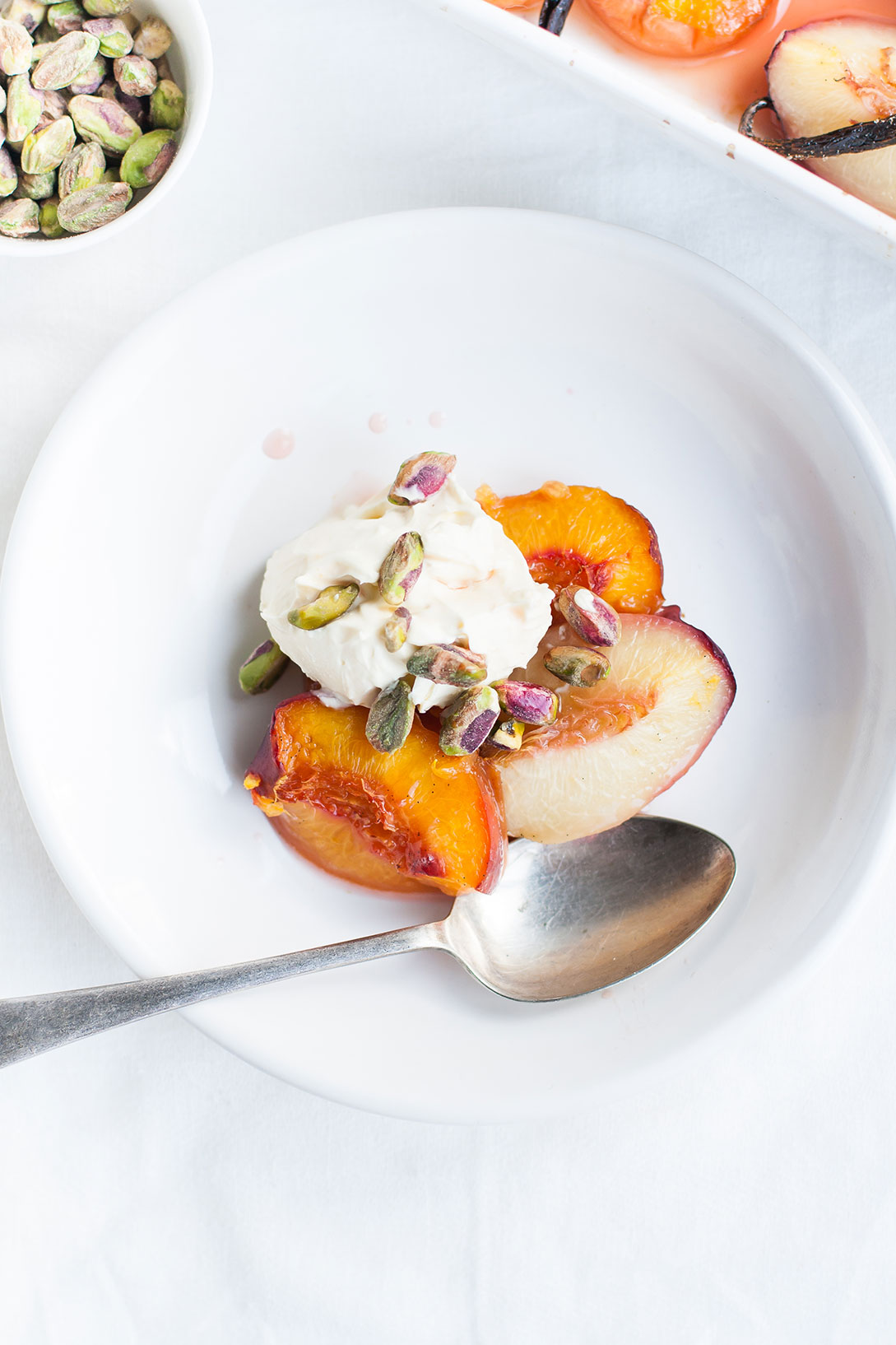 Oh and all those warm colours had me like… 'I need some green…' hence pistachios, but you could totally do slithered almonds or even toasted coconut.
Do you have a favourite delicious recipe to use up rather unfortunate looking stone fruit? I would love to hear?!
Ditto to a winning lemon curd recipe,  because I haven't found the 'ONE' yet.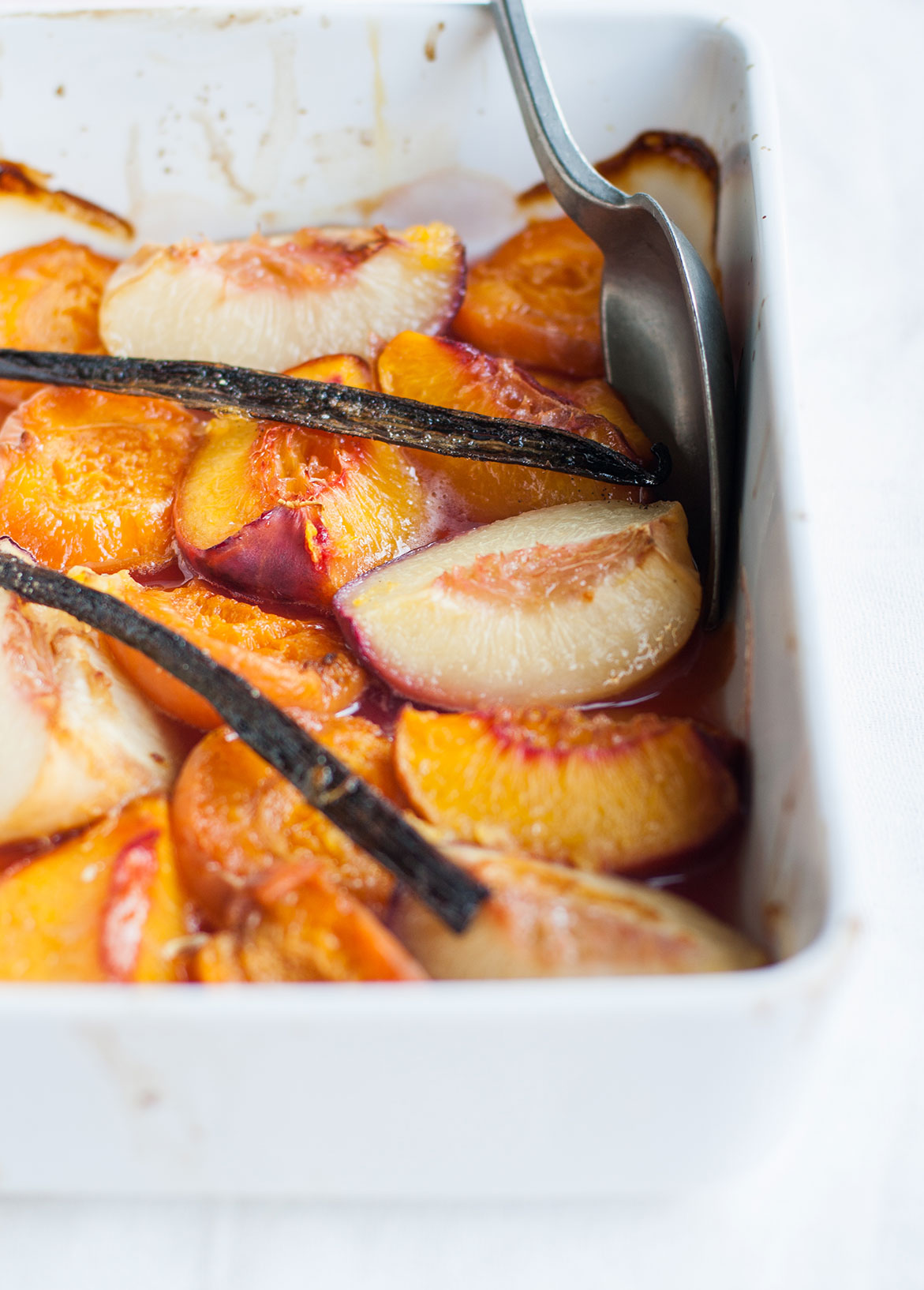 Baked Stone Fruit with Lemon Mascarpone

Serves 2-3.
2-3 large ripe peaches, quartered
2 large ripe nectarines, quartered.
4 ripe apricots, halved.
2-3 tbs of honey
1 vanilla bean
1 orange, juiced
1/2 lemon, juiced
1-2 vanilla bean pods
2-3 tbs of toasted pistachios, crushed (for topping)
3-4 tbs (or more!) of lemon curd (homemade or store bought)
200g of mascarpone cheese
Method
Preheat oven to 180 C.
Prepare stone fruit and place in an ovenproof dish (aim for a snug-fit).
Add lemon juice, orange juice and vanilla beans to the fruit toss gently to coat fruit. Drizzle the honey over the top.
Bake fruit in the oven for 20-30 minutes or until fruit is soft, golden and caramelised. When done, allow fruit to cool and prepare the lemon mascarpone.
In a separate small bowl, mix together the lemon curd and mascarpone. Add the curd tablespoon by tablespoon, to taste.
Served fruit with dollops of the lemon mascarpone and top with crushed pistachios. I like to reserve any of the sweet syrup left in the bottom of the baking dish for extra drizzling too!
Notes
Feel free to use whatever stone fruits you have on hand, even roasting rhubarb when in season, would work a treat too.